This post may contain affiliate links. Read my disclosure policy here.

I love to watch movies with my kids. Since going to the movie theater is so expensive, and because we're lazy homebodies, we generally prefer to watch it on DVD. We pop some microwave popcorn, change into our pajamas, dim the lights, and we're ready to go. These days you can even buy the DVD for less than the cost of two movie tickets.
One of our recent favorites was the Water Horse: Legend of the Deep. Finding a movie that is appropriate for both of my children is difficult (Kyle is almost 4 and Amanda is 9). Finding a movie that is okay for both of them to watch and doesn't bore my husband and me to tears is even harder. The Water Horse fit the bill in all of these categories.
The movie takes place in Scotland in World War II. The cinematography is beautiful. The story is told at a gentle, old-fashioned pace, yet still held the interest of both of my kids. The movie is essentially a drama–a coming-of-age story about a boy coming to terms to life without his father–but is told with humor, suspense, and adventure. I will say that although my son enjoyed it, if your child is sensitive to scary drama, I would hold off on this one. There is a part when the Water Horse turns on men (due to being scared and provoked), but it's pretty intense for younger viewers, thus the PG rating.
But really–can you resist this?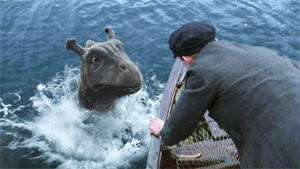 For about a week after watching this movie, Kyle had a perfect Water Horse impression. He screwed his mouth up just right and did something with his eyes and got that same lovable look on his face.
If you think your family would like this movie, please leave a comment to win one of 5 Water Horse prize packs including
the Water Horse DVD
a blue Water Horse t-shirt
a cool egg that hatches the water horse, and you can watch him grow just like in the movie (my kids loved watching this, even though I accidentally cracked the egg first, spoiling the cool hatching feature)
We will post the winners on Wednesday May 28.