This post may contain affiliate links. Read my disclosure policy here.
If you have been following blogs for any amount of time, you may notice a common trend: many mom-bloggers are also photographers.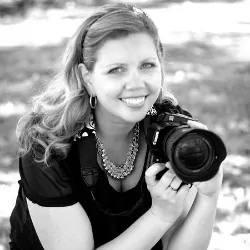 Have you ever wondered if you should "take the leap" and turn your hobby into into a profession?
With more mothers looking to work from home and unemployment rates soaring, it is a worthwhile question. Photography never seems to go out of style, and families always love pictures of their kids.
My own photography business started over six years ago, right around the time my son was born. I quit my job to stay home full time with him, and my brother (who is a full-time wedding photographer), asked if I would like to work for him from home editing his wedding photos. As I learned about exposure, composing a shot, shadows, etc… I began to take better photos with my own camera.
Soon friends saw pictures of my own children and asked me to take pictures of their kids. After building a portfolio, I went "live" and began my business.
Here are some DO's and DON'Ts to starting your own photography business:
DO:
Understand your camera. Just because someone has a nice camera doesn't make them a professional. If you don't yet understand exposure, lighting and your camera settings, it will soon become obvious to your clients, as well as other professionals who see your photos. Classes are available online, or through your local adult schools or community centers.

Decide how many "free" shoots you will do to build your portfolio before charging your customers. I did approximately ten free shoots myself to have stock photos and gain experience.

Go about it legally. Get a business license. Claim the income on your taxes. If you are making income from photography, you are self-employed. As much as you may not want to go through the trouble, it is the right thing to do, and you will avoid many fees than if you get caught practicing without a business license or not claiming your income on your taxes.

Establish set work times at home. It is not easy running a business with small children running around. It is hard to focus and your children will probably feel neglected. Decide when you will work, and then stop when that time frame is over.
DON'T:
Say "yes" to every photo opportunity that comes your way. If you are struggling to find the time for photo shoots and it's becoming stressful, pull back. More opportunities will come your way. As much as the money is needed, it's not worth your family having a stressed-out wife or mommy.

Give your clients too many photos. Decide early on how much time your shoots will take, and how many proofs you will give them. I made the mistake of giving my clients too many options, which actually made them more picky and increased my work load.

Pursue a photography business if you do not have the time. There may be a time in the future for you to pursue it, if you are bogged down with too many responsibilities now. It is better to have all of your focus on your business than be doing too many things at once.

Start a business just because you have a nice camera. This may be one of the biggest mistakes people make. I'll say it again: A nice camera does not make you a professional photographer; knowledge and experience does. If you have been taking great pictures for some time, and you regularly get requests from other people for you to take pictures of their family, then you may want to consider taking the leap. Ask your friends and family for their honest input.
Once you are ready to "take the leap," consider contacting other photographers in your area for advice, and ask if you might be able to shadow them. Experience is the best teacher. Starting a photography business can be a great way to pursue your hobby and earn income at the same time. However, it is not for everyone. Competition is tough right now, so it important that you know what you're doing and do it well.
There are many more tips out there to starting a photography business, but I hope this gave you a few tidbits of information to think about before you begin. Good luck!
Written by Jaimie Bowman, a fellow mom and professional photographer.
Jaimie Bowman is a full-time mother of two sons (ages 3 and 5) and a part-time professional photographer. Jaimie and her husband are also pastors and she enjoys traveling and speaking on faith and family.

Visit her website at www.jbowmanphoto.com and her blog at http://wonderyearsof2.blogspot.com. Tweet with Jaimie at @jmebowman