This post may contain affiliate links. Read my disclosure policy here.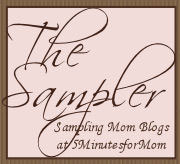 5 Minutes for Mom brings you exclusive samplings from the best mom blogs in our weekly column, The Sampler, hosted by 5 Minutes for Mom contributing editor Shera, from A Frog In My Soup.
I'd like to introduce all of you this week to Genny Heikka. She is an aspiring children's author who lives in California with her husband and two children. Genny's blog is My Cup 2 Yours, where she consistently shares simple daily conversations or activities and has the ability to point out great life lessons for moms. I truly encourage you all to visit her blog often.
Two Kinds of People
I was out running errands the other day when the traffic light in front of me turned yellow. I immediately slowed down, while the driver in the truck next to me gunned it. He sailed through the intersection and I stopped at the crosswalk, both before the light came close to turning red. And that's when it hit me that there are two kinds of people in this world—those who put on the breaks and those who are able to throw caution to the wind.
Guess which category I fall into?
There've been many times I've wished I didn't though. Many times I've wished I was more daring. And I'm not talking about traffic lights. I'm talking about trying something new, like skydiving or white-water kayaking. Why don't I like to jump off cliffs or go scuba diving? Why is it when I'm wakeboarding or skiing, I worry about falling? I'm very fast-paced in my daily life, but take me to a roller coaster and I'll pick the kiddie train over the loop-d-loop any day. I'm obviously missing whatever gene makes people enjoy speed and danger. And I used to be hard on myself about this.
I used to wish I wasn't so cautious. But since I've had kids, my perspective has changed. Because in understanding their personalities, I've come to understand my own as well.
When my son snow skis, he points straight downhill and goes as fast as he can. My daughter, on the other hand, prefers the side-to-side S curves. My son is competitive. He cares if his soccer team wins or loses. When my daughter played soccer, she was more interested in the bugs on the grass than the score of the game. My son says he wants to hang glide, drive a race car and invent a jet-powered backpack that can make people fly. My daughter has "safer" aspirations…to be a mommy, an artist, an actress.
Recognizing my kids' differences has really helped me to appreciate the unique people they are. It's made me appreciate my own uniqueness as well. Instead of comparing myself to someone else and wishing I was more "that way", I recognize that this is me. Sure, I could push myself and do something "crazy" like bungee jumping (see how I called it crazy?). And maybe someday I will. Maybe it would be fun. But if I don't, I won't beat myself up about it either.
Although my son is like my husband (who definitely has that gene), he's also like me in many ways. And the same goes for my daughter. Both of them have a little bit of both of us. But my husband and I have realized that it's not about who they're like, it's about who they are. And it's about (whether they put on the breaks or throw caution to the wind) making sure we appreciate and love them. No matter what.
~ Written by Genny Heikka of My Cup 2 Yours. As an aspiring children's author Genny has won several awards and has had work published in magazines.
If you would like to be considered for The Sampler please review The Sampler Guidelines.
This column is Hosted by Shera. She can be found at A Frog In My Soup