This post may contain affiliate links. Read my disclosure policy here.
This Mother's Day we can't forget all those nursing mothers out there!
So, to celebrate those snuggly, wonderful nursing moments of motherhood, we are giving away a Cuddoozle Nursing Pillow, plus a small Body Hugger Pillow to one lucky mom.
Nursing a newborn can be a bit tricky – especially for a first time mom. I remember my first attempts at nursing Jackson. I propped pillows and tried my best to get us both as comfy as possible. At the time, the nursing pillow I had fell short of my needs. More often, I ended up using a few pillows to nurse instead.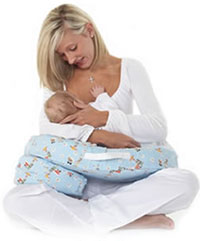 Margaret Norcott had a similar experience. The limitations of her nursing pillow inspired her to design and develop the Cuddoozle Nursing Pillow.

Made with memory foam and a permanent wipe away breathable inner cover, the patent-pending Cuddoozle Nursing Pillow is a new kind of nursing pillow.
With her experience as a nursing mom, Margaret has thoughtfully designed the Cuddoozle's many features:
Wipe-away breathable inner cover – patent pending permanent wipe away breathable inner cover, which is Anti mite, Anti dust, Anti Microbial, Hypoallergenic and Waterproof
Three-layer patent pending pressure sensitive memory foam – offers support and comfort for both baby and mother
Reversible – no matter which way you wrap around your waist it's always the right side up to feed due to the flip flop design
Additional multi-purpose pillow – use to elevate baby to breast feeding height, to incline for reflux babies, or as an additional arm rest or even behind the mother's back or head
Extra large flat sides of the nursing pillow – provides arm and/or elbow rests to alleviate shoulder stress while feeding
Large flat surface area – accommodates any size baby while the memory foam stabilizes the lying baby as it conforms to the shape of the babies body to stop the baby from rolling
Removable and machine washable outer cover and inner permanent protective cover – keeps the nursing pillow clean and hypoallergenic
Carry Straps –makes picking up the pillow easy while holding baby
Convenient Pockets – allows for easy storing of small accessories, no matter which side of the pillow is being used.
If you or a mom you know is nursing, check out Cuddoozle. And if you want to win both the Cuddoozle Nursing Pillow AND a small Body Hugger Pillow enter with your comment on this post.
(Cuddoozle is offering free shipping to the continental 48 states for all orders made via their website. So if you head over to their site from here, you will receive free shipping on your order!)
Enter to Win: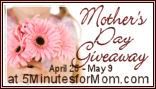 If you would like to win both the Cuddoozle Nursing Pillow and a small Body Hugger Pillow, all the instructions about entering the Mother's Day 2008 Giveaways are included in the Mother's Day 2008 Giveaway post (including the code to put our Mother's Day Giveaway button on your site.)
But here is a quick run through:
Leave a comment on this post to be entered.
Post a link to this contest (it is always nice to let your readers have a chance to win too!) and/or link and post a button to our Mother's Day 2008 Giveaway post. (If you post the button and link to the Mother's Day 2008 Giveaway, you are qualified to enter in all the upcoming Mother's Day 2008 Giveaway contests. And we have two weeks of contests to enter!) Non-bloggers are welcome too – we understand you can't link – but feel free to pass the word on to your friends or write about it on Facebook, Twitter, etc.
(This giveaway is only open to US shipping addresses.)
Good luck!
(Have you checked out the other contests in Mother's Day 2008 Giveaway contest?)