This post may contain affiliate links. Read my disclosure policy here.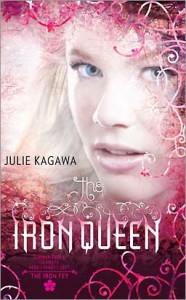 The Iron Queen by Julie Kagawa is the highly anticipated third installment in the Iron Fey series.
I have read the first two books in this YA series from Harlequin Teen, and unlike some series where it seems like the author results to filler to keep the series going, I can honestly say that The Iron Queen is as strong or stronger than the first two.
Last summer I reviewed The Iron King (linked to my review). You can find out some details about the beginning of the series over there. Check out the book trailer for another fun look.
In The Iron Queen, Meghan Chase is about to turn 17 years old, and now she's going to face the most difficult challenge yet — to save the fey (faery world) from the invasion of the false iron king.
I am not familiar with all of the faerie lore that is out there, so I don't know how much is the product of Jullie Kagawa's world, and how much is common knowledge, but what I do know is that the world she has created in her Iron Fey series is so imaginative and complete that it makes the riveting story even more fantastic.
The good versus evil, the idea of a quest, and this imaginative setting makes these books reminiscent of the Lord of the Rings or the Harry Potter books.
I highly recommend this series if you or your young teen enjoy fantasy, action, and adventure. Meghan Chase is a hero to get behind, yet also shows moments of insecurity as any teen girl does.
Content Note for Parents: There is a fairly low level of romance, some fairly intense battles, and the books do contain some swearing, but I think that most parents will probably find it appropriate to middle school and up.
The story isn't over yet — book 4, The Iron Knight (Ash's story), is next! While you're waiting, keep up with the Iron Fey on Facebook.
We have a fantastic giveaway for one of you.
One of you will win all three books in the series (Iron King, Iron Daughter, and the newest Iron Queen), plus a custom-skinned Ipod Nano!
This giveaway is open to U.S. residents only.
Leave a comment if you'd like to win (one comment per person, please), and we'll announce the winner on February 28.
Written by Jennifer Donovan, who blogs at Snapshot and manages 5 Minutes for Books