This post may contain affiliate links. Read my disclosure policy here.
It still feels fabulous, so let's do it again!
Since I have been loving every second with my The SAK Dakota Hobo handbag, we have decided to share our love of The SAK again this Mother's Day.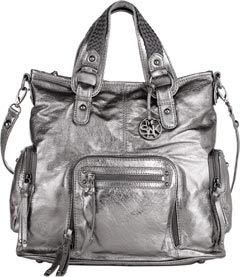 This time, we have The SAK Dakota Shopper handbags in stunning graphite foil metallic to give away to two of you.
When I sling my Dakota Hobo over my shoulder it turns up the volume on my day. The right bag can turn an ordinary day into something fantastic.
Susan was more than a bit envious of my The SAK bag. But this time, it was her turn!
Susan loves her new Dakota Shopper. Not only is the head-turning, graphite crinkle-glazed leather funky and fabulous, but the Shopper is roomy with tons of convenient pockets and a detachable shoulder strap for when her hands are full with kids. With two little ones, the Shopper is perfect for Susan to double as her purse and as a mini-diaper bag with room for diapers, etc.
And what I love about The SAK is that you get the luxury of a designer bag at a reasonable price. I can look and feel fabulous at an affordable price. Sounds just perfect to me!
So this Mother's Day, maybe some affordable luxury from The SAK might be the perfect gift for you. (Perhaps leave The SAK open on the computer with a note of your favorite styles. Maybe your hubby will get the hint!)
Speaking of favorite styles, if you want to win a The SAK Dakota Shopper, leave a comment letting us know what bag you would love your family to treat you with this Mother's Day.
Enter to Win: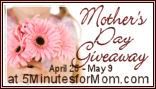 If you want to win a The SAK Dakota Shopper, all the instructions about entering the Mother's Day 2008 Giveaways are included in the Mother's Day 2008 Giveaway post (including the code to put our Mother's Day Giveaway button on your site.)
But here is a quick run through:
Leave a comment on this post to be entered.
Post a link to this contest (it is always nice to let your readers have a chance to win too!) and/or link and post a button to our Mother's Day 2008 Giveaway post. (If you post the button and link to the Mother's Day 2008 Giveaway, you are qualified to enter in all the upcoming Mother's Day 2008 Giveaway contests. And we have two weeks of contests to enter!) Non-bloggers are welcome too – we understand you can't link – but feel free to pass the word on to your friends or write about it on Facebook, Twitter, etc.
(This giveaway is only open to US shipping addresses.)
Good luck!
(Have you checked out the other contests in Mother's Day 2008 Giveaway contest? The prizes are so exciting and we have more to come!)