This post may contain affiliate links. Read my disclosure policy here.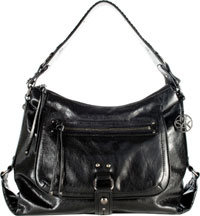 Today, I had a swing in my step.
I passed over the rain boots I usually throw on when I drop Jackson off at school and put on some "real" shoes instead. At the stop lights, I dusted my cheeks with some blush and added eyeshadow and eyeliner to my usual concealer and lip gloss morning routine.
I felt a little bit fabulous.
Why? Well, I was carrying a fantastic hand bag! I ditched my old purse for this new The SAK bag and it felt great!
I am a work at home mom. Most days my babysitter – and my six year old – say that I dress like a teenager. Jeans and Crocs? Sounds good to me.
But today, with this delicious bag slung over my shoulder, it felt fabulous to be all grown up.
I may not have the wardrobe of a celebrity, or even a closet like some of the moms in our school, but this The SAK purse makes me feel like I have a little piece of it – a yummy morsel that has me licking my lips.
This year The SAK was the official handbag sponsor of the Grammy's. The SAK gave performers and presenters the first opportunity to pick up the hottest new bag from the The SAK's graffiti-inspired special edition Ashbury collection, which will be available this Spring.

The tote features an exclusive, 60's-inspired print designed by Paris-born artist Gilles Jourdan that promotes peace and harmony among all beings with dove artwork and emphasizing the words "peace" and "San Francisco".

Dedicated to supporting the environment, many stars signed the totes to help raise money for The Nature Conservancy.

The SAK will be auctioning off the signed bags on CHARITYFOLKS.com/thesak beginning this Wednesday, February 27th. Celebrities participating include Miley Cyrus, Cyndi Lauper, Taylor Swift, The Foo Fighters, Plain White T's and Amy Lee. Make sure to log on to help support the cause!!
We want you to feel fabulous too! You deserve it!
So leave a comment here and link back to this post from your blog for a chance to win this The SAK Dakota Hobo handbag. (We will announce the winner on March 15th. This contest is open only to US shipping addresses.)
It is made with luxurious Italian, crinkle-glazed leather and has a braided leather strap, tassels and outside zippered pocket. I also love the gorgeous, wine-colored, satin lining.
But even if you don't win one here – the other wonderful thing about The SAK handbags is that they are reasonably priced. The Dakota Hobo is $159.99 and you can find even more affordable designs on their site too. Don't forget to check the sale items – you can definitely get some very great deals on fabulous there!
And when your bag arrives at your door, throw it over your shoulder, put on some lipstick and head outside (even if it is just to drop your kids off at school.) You look fabulous – and you need to show it off!