This post may contain affiliate links. Read my disclosure policy here.
There is a reason Sophie the Giraffe is famous…
… she is simply one of the most fabulous baby teether toys in the world!
And Sophie the Giraffe (made by Vulli) is a global phenomenon. Sophie was born in France in 1961, and her success is legendary in France – and all over the internet!
Sophie is hand made in the French Alps with natural rubber (phthalate-free) and non-toxic paint. Sophie fully complies with the U.S. toy safety requirements.
We had read so many fabulous reviews about Sophie the Giraffe, we just had to test her out ourselves.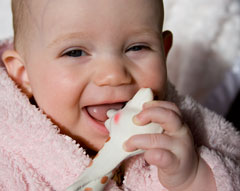 When Sophie arrived at our door, I handed her to Olivia and she fell instantly in love with her. Olivia literally didn't put her down for the next three hours. And she has been a constant companion since. Sophie even traveled with us to San Diego and I guarded her with my life to make sure we didn't lose her!
Sophie the Giraffe is super soft, flexible and light. And at 7″ tall, she is the perfect size for little hands. Perhaps the best part of her design, is her bumpy head that soothes sore, teething gums.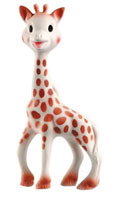 Sophie has a small "squeaker" inside her that squeaks when you squeeze her – kind of like a dog toy! It could get annoying I suppose, but the fact that Olivia is so enthralled and content with her – and the fact that she rarely squeaks it herself, she is mainly just chewing on Sophie – makes me love Sophie the Giraffe just as much as Olivia loves her! (The squeaker is very handy when I am trying to distract Olivia from something else and turn her attention to Sophie.)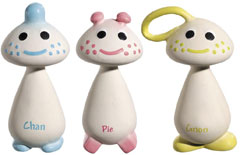 Sophie also has three adorable friends, Chan (Blue), Pie (Pink) and Gnon (Yellow), named after the French word for mushroom (champignon.) Just like Sophie the Giraffe, these mushroom-styled, natural rubber teethers include a squeaker sound and are made in natural rubber (phthalate-free) and baby can chew them in complete safety. Each teether is sold separately.
When I was searching for sites selling Sophie, I came across this fabulous boutique, The Funky Monkey. The Funky Monkey is just that – a FUNKY, FUN store! I love it!
Based in London, Ontario, The Funky Monkey is run by a Mom and Dad dedicated to giving parents the opportunity to buy quality, stylish and unique baby and toddler products. They ship worldwide, but have free shipping programs available for US and Canadians. YES – all you Canadians out there can rejoice – they are actually located in Canada!

Since we are all about work at home moms, (and how fantastic that they are a work at home mom and dad team!) I wrote The Funky Monkey and asked them if we could share their funky boutique with the blogosphere.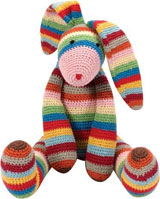 They agreed and are offering our winner a special gift basket of baby toys!!!
The Funky Monkey will send our winner a prize package that includes:
Sophie the Giraffe
Two Vulli Teethers
Stripes the Long Eared Bunny
Animal ABCs Ring Flash Cards
Rub a Dub Draw in a Tub
Enter to Win:
If you want to win, all the instructions about entering the "Two Weeks of Toys" Giveaways are included in the "Two Weeks of Toys" Giveaway post (including the code to put our "Two Weeks of Toys" Giveaway button on your site.)
But here is a quick run through:
Leave a comment on this post to be entered.
Post a link to this contest (it is always nice to let your readers have a chance to win too!) and/or link and post a button to our "Two Weeks of Toys" Giveaway post. (If you post the button and link to the "Two Weeks of Toys" Giveaway, you are qualified to enter in all the upcoming "Two Weeks of Toys" Giveaway contests. And we have two weeks of contests to come!) Non-bloggers are welcome too – we understand you can't link – but feel free to pass the word on to your friends.
(This giveaway is open to both US and Canadian shipping addresses.)
Good luck!
This is the FINAL giveaway in our "Two Weeks of Toys" Giveaway contest. Have you entered all of the contests you want to enter? Make sure you click through and add comments to each giveaway that you want to enter.
The deadline to enter the contests is Wednesday, May 7th at 5pm Eastern and winners will be announced in the afternoon of Friday, May 9th.