This post may contain affiliate links. Read my disclosure policy here.
Aliens, spaceships, and lots of goo – what kid wouldn't love that?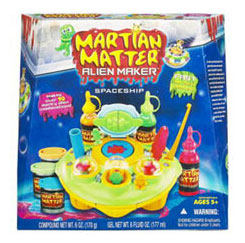 Hasbro's Martian Matter makes playtime super cool.
With the Martian Matter Alien Maker Spaceship, Kids can get creative molding alien forms from Lunar Lava gel and Meteor Mud. And if building the aliens isn't enough for their imaginative minds, they can use the tools to flatten or dissect their aliens, spilling the extraterrestrials' gooey guts.
The Martian Matter spaceship kit comes with 14 different half-molds, so kids can mix and match to create more than 90 different alien combinations. And with the three different colors of Lunar Gel, no alien has to look the same. After the alien race is completed, kids can fly their creations in the spaceship's pods.
Martian Matter is a hit with Jackson. He has a blast molding his aliens and then creating adventures for them.
I am impressed with the kit too. I had to help Jackson set it up the first time, and read the instructions while we figured out how to use the Lunar Gel and Meteor Mud. But once I had helped him make a couple aliens, he had the hang of it and created an entire alien fleet!
Martian Matter is clearly marketed at boys, but I think lots of girls would have just as much fun making their own multicolored aliens, flying their little creations around in a spaceship, and making up stories of life in outer space.
If you are looking for a fun, indoor toy for your kids, consider picking up some Martian Matter.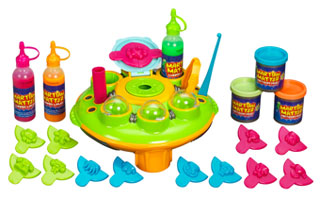 The Martian Matter Spaceship playset comes with 14 alien half-molds, plastic knife, roller, tweezers, cutter, 3 two-ounce bottles of LUNAR LAVA gel and 3 two-ounce cans of METEOR MUD compound.
Martian Matter refill sets are available.
Enter to Win:
If you want to win a Martian Matter Alien Maker Spaceship, all the instructions about entering the "Two Weeks of Toys" Giveaways are included in the "Two Weeks of Toys" Giveaway post (including the code to put our "Two Weeks of Toys" Giveaway button on your site.)
But here is a quick run through:
Leave a comment on this post to be entered.
Post a link to this contest (it is always nice to let your readers have a chance to win too!) and/or link and post a button to our "Two Weeks of Toys" Giveaway post. (If you post the button and link to the "Two Weeks of Toys" Giveaway, you are qualified to enter in all the upcoming "Two Weeks of Toys" Giveaway contests. And we have two weeks of contests to come!) Non-bloggers are welcome too – we understand you can't link – but feel free to pass the word on to your friends.
(This giveaway is open to US shipping addresses.)
Good luck! And we will see you tomorrow for our next "Two Weeks of Toys" Giveaway contest.