This post may contain affiliate links. Read my disclosure policy here.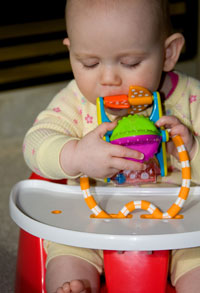 Time to get comfy — and have some fun!
It is an awkward stage when baby is not strong enough to sit unsupported or use a high chair, but old enough that she wants to be part of the action! To have a place where baby can safely sit – and even eat or play – is a dream for a mom.
In our third giveaway in our "Two Weeks of Toys" Giveaway Event, we are featuring the the bébéPOD® PLUS by Prince Lionheart.
The bébéPOD® PLUS offers baby a safe place to sit and options to play, eat or just hang out with a removable, adjustable tray that can be used for eating, with one of the two reusable place mats, or transformed into play time with a specially designed toy by Sassy (the one that Olivia is enjoying chewing on in the photo!)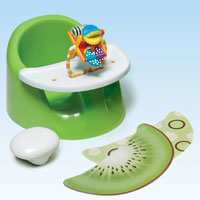 The ergonomic design gives the baby support while she is learning to sit by allowing the baby's own body weight to make a safe and comfortable seating position, without the need for uncomfortable straps.
Olivia adores her bébéPOD® PLUS. From the first day it arrived for us to review, the bébéPOD has become an essential piece of baby gear in our house. We use it for feeding Olivia since we haven't started using her high chair yet, as well as using it for her to play with other toys that require her to sit up. For instance, Olivia has a toy that requires a baby to sit or stand to play with it. So I put Olivia in her bébéPOD and pull it up next to the toy. She is thrilled! She can play to her heart's content.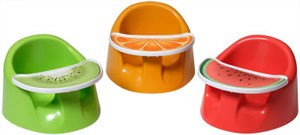 The seats are lightweight, durable, non-toxic and super easy to wipe clean.
I love the fun colors and designs of the bébéPOD® PLUS too. (They make me thirsty for summer!)
Enter to Win:
If you want to win a bébéPOD® PLUS, all the instructions about entering the "Two Weeks of Toys" Giveaways are included in the "Two Weeks of Toys" Giveaway post (including the code to put our "Two Weeks of Toys" Giveaway button on your site.)
But here is a quick run through:
Leave a comment on this post to be entered.
Post a link to this contest (it is always nice to let your readers have a chance to win too!) and/or link and post a button to our "Two Weeks of Toys" Giveaway post. (If you post the button and link to the "Two Weeks of Toys" Giveaway, you are qualified to enter in all the upcoming "Two Weeks of Toys" Giveaway contests. And we have two weeks of contests to come!) Non-bloggers are welcome too – we understand you can't link – but feel free to pass the word on to your friends.
(This giveaway is open to US AND Canadian shipping addresses.)
Good luck! And we will see you tomorrow for our next "Two Weeks of Toys" Giveaway contest.