This post may contain affiliate links. Read my disclosure policy here.
Playskool consistently creates toys that engage our kids, inspiring imaginative and active play. So we are kicking off our "Two Weeks of Toys" Giveaway Event, with a fantastic assortment of Playskool products. Today, we have items for babies and preschoolers!
Dream Town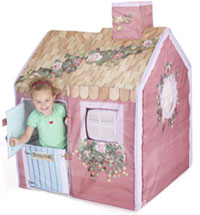 First, we have the Rose Petal Cottage from the Dream Town Collection by Playskool. The Rose Petal Cottage is an adorable fabric playhouse for preschoolers to lose themselves in their imaginations. With the Dream Town appliances and accessories, little girls (and little boys) will love playing house, complete with doing chores, looking after their babies and cooking dinner.
And as the "real" moms, we will appreciate that the Cottage nests together, along with the furnishings, and accessories, to quickly store away when play time is over.





We are giving away THREE Dream Town prize sets! Each lucky little winner will receive a Rose Petal Cottage AND a washing machine, kitchen sink, nursery set and 2 play food sets – a Makin Muffins set and a Stew N Simmer Veggie Set. (The Veggie Set is not available in stores until fall.) If your child would want to win, let us know in your comment.
To get an incredibly detailed look at the entire Dream Town Collection, click over to www.hasbro.com/dreamtown. There are interactive videos, an open house tour of the cottage, an assembly video and more.
Kid Motion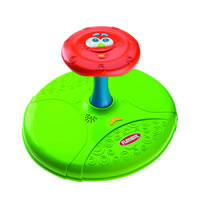 When your preschoolers are finished playing house, perhaps they will be in the mood to burn off a little energy. Get their little bodies in action with Kid Motion.
This fun line from Playskool can get your kids hopping, spinning, bouncing, jumping and running. With toys like the Simon Says Sit 'N Spin, the Easy Hit Bat & Ball, Super Squishy Soccer Ball and more, Kid Motion will get your kids moving and having tons of fun.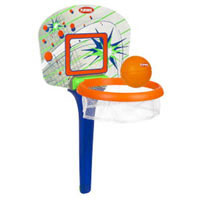 With the Kid Motion Easy Dunk Basketball, slam dunking is for the 3 foot players! Easy Dunk Basketball simply hangs on a doorknob or handle and is the perfect height for toddlers to practice their slam dunks. How cool is that! Your little athletes can get practicing their court moves right in their own rooms.
We are giving away THREE Kid Motion Easy Dunk Basketball sets. If you have an aspiring basketball star in your house, just let us know in your comment.
Made For Me
But what about the littlest ones, who can't keep up with the big kids? We aren't forgetting them! For the sweet, sleepyheads, Playskool has the Made For Me line,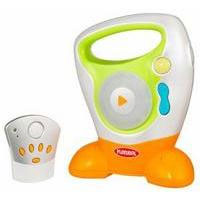 which features the Made For me MP3 Music Player.
This MP3 Music Player allows you to download up to two hours of music, transfer songs from your personal CD collection or record your own voice. It comes pre-loaded with 50 songs and sounds on four different play lists: Playtime, Sleepy Time, Sound Effects and Favorites. You can choose a play list or shuffle them for random play. The Removable MP3 unit is compatible with all Made for Me toys, like the Made For Me Day To Dream Soother.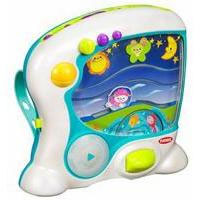 The Made For Me Day To Dream Soother is a crib music player that has day and night modes to help stimulate or relax kids with just the right music, plus a choice of animated characters or soft lights. You can put on the music alone, add the illuminated screen, or switch on the ceiling light show for a soothing bedtime display.
And if you have the MP3 unit, you can play your own playlist of favorite music and sounds for your baby.
We are giving away two Made For Me Day To Dream Soother. If your baby would want a Day to Dream Soother, note that in your comment.
Enter to Win:
If you want to win one of these prizes, all the instructions about entering the "Two Weeks of Toys" Giveaways are included in the "Two Weeks of Toys" Giveaway post (including the code to put our "Two Weeks of Toys" Giveaway button on your site.)
But here is a quick run through:
Leave a comment on this post to be entered. Please be sure to say which of these prizes you would prefer to win.
Post a link to this contest (it is always nice to let your readers have a chance to win too!) and/or link and post a button to our "Two Weeks of Toys" Giveaway post. (If you post the button and link to the "Two Weeks of Toys" Giveaway, you are qualified to enter in all the upcoming "Two Weeks of Toys" Giveaway contests. And we have two weeks of contests to come!) Non-bloggers are welcome too – we understand you can't link – but feel free to pass the word on to your friends.
(This giveaway is open to US shipping addresses only.)
Good luck! And we will see you tomorrow for our next "Two Weeks of Toys" Giveaway contest.
PS – Don't forget to mention in your comment at this post which prize of this Playskool giveaway you prefer to win.