This post may contain affiliate links. Read my disclosure policy here.
I have reviewed quite a few chapter books written for older elementary students or tweens in this column, but most books of that type that have come across my desk have been for girls. I was happy to get a copy of Red Dragon Codex, the first in a series by R.D. Henham, for all the dragon-loving fantasy readers, knowing specifically that it would appeal to boys as well as girls.
I read a few chapters of it, and it's quite imaginative and detailed. I wondered if Amanda (9 1/2) would be interested in reviewing it for me, and she was. Here is her review: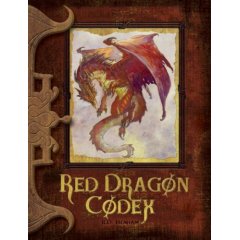 Do you like dragons? Do you enjoy adventure? Well then, I think you'd enjoy this book.
It's about a boy named Mudd, a girl (his sister Heira), and lots of other questers. Mudd is a boy who isn't very good with weapons, but is great with fixing things. His sister Heira is a girl who transforms from warrior to beautiful in front of her brother's eyes. She pays attention during her weapons class! Greenthumb (a.k.a. Drakecutter) is a dwarf who'd rather fight vicious creatures than plant seeds day after day. Iroden is a kender who is really an elf under a spell. And of course there's Redclaw, a horrible evil red dragon who plans to destroy the silver dragon (who loves people). Kirak is a boy who serves the red dragon who has a horrible secret that he can't tell anybody.
In the front of the book, I got some interesting info. I learned that this book is in a series. I also learned that this book is recommended for ages 8 – 12. The book has 256 pages.
If you would like to win one of two copies (U.S. shipping addresses only), please leave a comment here, and come back next week to see if you won.
Amanda reviewed another fantasy book for me on my personal blog this week as well. There's a giveaway too, so if you are interested in fantasy, click on over and check it out.

The winner of the book from last week's column, Talk of the Town , is Gloria (#5).