This post may contain affiliate links. Read my disclosure policy here.
For those of us raising children in the car seat/booster era, it is hard to imagine a world without car seats and safety standards. My mother carried us in her arms on our car ride home from the hospital! It was definitely a different time. Growing up, we were lucky if we had a seat belt strapping us in, never mind having a car seat with a five point harness and EPP energy absorbing foam!
I am grateful that I get to safely secure my kids in car seats that are scrutinized for safety and constantly being improved. Driving is dangerous, so I want as much protection for my kids as possible.
But even though I love that my kids are safer, car seats can be a huge hassle. Installing them, moving them from car to car, getting the straps snug but not too tight – these are the trials that we parents face. And I am sure most of us would beg the designers to come up with car seats that fixed these common problems.
(In the six years since Jackson was born, I am impressed with the improvements car seat companies have made. With Jackson's infant seat I had to adjust the straps at the back, a task that was impossible with the baby in the seat. So if Jackson had a thick coat on, he wouldn't fit. And every time he grew – which was constantly – I had to take off the straps at the back and move them to the next slot. It drove me crazy!)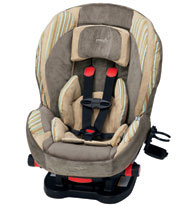 Evenflo's newest innovation in car seats, the Triumph Advance Convertible Car Seat, (for children between 5 and 50 pounds,) works to improve these car seat frustrations with first-to-market features that make safety and installation easier than ever before.
Evenflo also has extremely helpful "How-To" videos on car seat installation on their site. Thank you Evenflo! (Note: I found the videos worked better for me in Internet Explorer rather than in Firefox.)
I recently tested out the Canadian version of the Triumph Advance. (For those of you who don't know, we have different safety standards in Canada and so we cannot use US car seats in Canada. Therefore, we have a much smaller selection of car seats here. Evenflo is, however, one of the companies that sells car seats in Canada. If you are a Canadian and you win our contest, we will be sending you the Canadian version of the Triumph Advance.)
I was impressed with the Triumph Advance. The installation was easy and the car seat appears to be sturdy, comfortable and well made. The seat also features an exclusive Infinite Slide™ Harness Adjustment system that makes it simple to find the proper harness placement as the child grows or if you have different children using the seat.
My favorite feature of the Triumph Advance is the exclusive TensionRight™ knob that tightens the harness easily from either side of the car seat.
With Olivia's infant car seat at least I can adjust the straps each time I put her in, (unlike the car seat I used for Jackson six years ago,) but I have to hold down a button and pull up on the strap. It is uncomfortable and difficult and I rarely get it "just right."
But with the TensionRight™ knob, all I have to do is turn the knob and it tightens easily. Brilliant! My greatest car seat frustration solved.
The car seat is very large – so if you have a small car, it might be a bit tight. I have a minivan, so the size isn't a problem for me. The one problem I did have was the strap for the seat anchor. It is about an inch too short for my mini van. I couldn't quite get it to reach to my anchor on the floor. But this problem is easily solved. Evenflo has an extension for the strap available for purchase through their ParentLink department. So if it is too short for your minvan – no worries! You can get an extension strap.
Here is a quick summary of the features for the Triumph Advance™ Deluxe Convertible Car Seat

Increased! Rear Facing for infants 5 to 35 lbs.
Increased! Forward Facing for infants 20 to 50 lbs.
New! Infinite Slide Harness adjustment system
Removable body and infant head support pillows
Multi-position ReclineRight™ base
Exclusive! TensionRight™ knob tightens harness easily from the side
New! EPP, energy absorbing foam liner
Fold-down cup holder for easy access to drinks and folds out of the way when not in use
Removable, washable pads
2 buckle strap positions accommodate growing child
Meets or exceeds all applicable U.S. safety standards
If you want to win an Evenflo Triumph Advance Convertible Car Seat, just leave a comment here at this post. (This contest is open to BOTH Canadian and US shipping addresses.) We will announce the winner on March 29th.