This post may contain affiliate links. Read my disclosure policy here.

Welcome! We are so thrilled to have you here.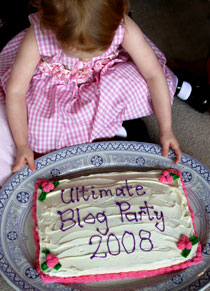 We know you have a ton of parties to get to, but first come on in and party with us.
Our kids have thrown another wild Ultimate Blog Party kick off just for you. Their party this year is bigger and crazier. So turn up your speakers and get ready to dance…
Oh and don't forget to leave your link in the Mr. Linky before you go!
If you want to read more about what exactly we are doing at this "blog party", check out our Ultimate Blog Party instructions.
But basically, The Ultimate Blog Party is a carnival for you to meet other mom bloggers, have fun and win prizes.
For all you bloggers, make sure you leave the permalink to your "party post" – the post where you introduce yourself and have some fun – in the Mr. Linky or keep your party post as a "sticky post" at the top of your site.
If you are not a blogger, no worries, you can still party hop and win prizes too.(In order to be eligible as a party guest for the prize draw, you need to visit and comment on at least 20 participating blog parties by clicking on the URL links in the Mr Linky – that big table of links at the bottom of this post).
PLEASE NOTE: To be entered in the prize draw, LEAVE A COMMENT at THIS POST – not at the prize listing post. If you are unsure how to comment, click on the the word "comments" (it will have the number of comments that are already posted) that is under the pink line at the bottom of this post.
This year, in order for us to include non-bloggers, we will be drawing the winners from the COMMENTS here at this post, not from the names in the Mr. Linky list. If you are a non-blogger – to be eligible in the prize draw, you must "qualify" as a party guest by visiting and commenting on at least 20 participating party posts in the Mr. Linky list of bloggers. (Scroll down to see the list of links.)
Now – before the kids start partying in their fabulous slide show, let me quickly introduce ourselves. We are Janice and Susan, identical twins and co-founders of 5 Minutes for Mom. We work with our mom, Joan, running two online stores http://www.PedalCarsAndRetro.com and http://www.A-Rocking-Horse-To-Love.com.
We started 5 Minutes for Mom because we believe in community and moms supporting one another. (If you have to buy, why not buy from another mom!) We wanted to design a site that would help, encourage and entertain moms, while bringing exposure to mom-run blogs, sites and stores.
It has been just over two years since we started 5 Minutes for Mom and we are having a blast. We never expected for this site to keep us so busy – and we never expected that Susan and I would deliver baby girls within two weeks of each other!
When we started 5 Minutes for Mom, Susan and I each had only one child. THEN, in the second week of January 2007, we both got pregnant. This fall, we had our beautiful baby girls. Thank you so much for all your support – and your patience as we try to raise our children, run stores, and promote you and your sites.
Now before you head out to the other parties, kick off your shoes, grab your kids and DANCE! (Scroll down for the slide show.)
The Mr. Linky — Add Your Party Link
If you're a blogger, write a party post on your own blog and add the url of that post to the list of links in the Mr. Linky below. If you're not sure what's going on here, check out our Ultimate Blog Party instructions.


Did you see the enormous list of prizes we're handing out?
Please jump over to Pamela at Happy Panda to thank her for the amazing job she has done sorting out and publishing all the prize information. She'll also be drawing the prizes and publishing the winners' names. We could not have done without her.
Also, we'd like to thank our official Blog Party designer Selene from iDesign Studios. She won the design contest for the Ultimate Blog Party 2008 banner and button. Our runner-up with only one fewer vote was Karla from Fruition Designs. You will see both designs around the blogosphere pointing to the party.
If you don't yet have one of their funky buttons on your blog, click here to get a UBP 2008 button or banner to put on your blog.