This post may contain affiliate links. Read my disclosure policy here.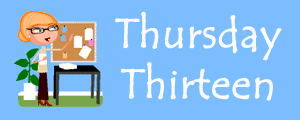 Banner by Chaotic Home
Susan and I are identical twins. People often ask us if we are alike, so I devoted last week's Thursday Thirteen to our similarities and this week's Thursday Thirteen to our differences.
(In case you're confused, I'm Janice, the main writer here at "5 Minutes for Mom". Susan was blogging while I was away this weekend, and she handles all the directory listings here and all the techie stuff. We tend to work as a team in all areas of our lives.)
We love being twins and think everyone deserves a twin. Although we are very identical in some ways, we also have some distinct differences. (This list was much harder to come up with than our list of similarities, which I posted for last week's Thursday Thirteen.)
13 Differences Between Susan and Me
I am taller – an inch or so.
My nose is bigger. (I don't like my nose. It isn't really that bad – I just don't like it. But, I don't really like hers either.)
My hair is thicker. Now this isn't saying much because my hair is very fine. But her hair is really fine!
I have a bigger head. Or as Susan would put it, "Your head is two sizes too big."
Susan is good at math and sciences etc. I love to write.
I love photography and scrapbooking. Susan loathes taking photos and has yet to scrap a page. Although, she loves the photos and scrapbooks I do for her and her family!
Susan was a software developer before we started our own business and knows how to do techie stuff! I know so very little it is sad.
As children, Susan was a tomboy but I longed to wear skirts and take ballet and gymnastics. Instead, I wore pants and followed Susan to soccer.
Susan is braver than I am. When we were kids, if Susan was sick I wasn't brave enough to go to school alone, so I'd stay home from school too.
Susan was better at sports. She always won at the track meets – I got participation ribbons only.
Susan married a computer techie. I did not. My husband is the opposite. (But they are both very helpful in their own ways. Rob does a ton of tech support for us. Phil is an electrician and is great at fixing things that are not computer related – oh and at carrying heavy objects – he is really strong!)
I like to sew. Susan hates sewing. (Unfortunately, the only sewing I have done in the last decade is for cardmaking/scrapbooking.)
I like to shop – Susan only likes to shop online.
Get the Thursday Thirteen code here!
The purpose of the meme is to get to know everyone who participates a little bit better every Thursday. Visiting fellow Thirteeners is encouraged! If you participate, leave the link to your Thirteen in others comments. It's easy, and fun! Be sure to update your Thirteen with links that are left for you, as well! I will link to everyone who participates and leaves a link to their 13 things. Trackbacks, pings, comment links accepted!
View More Thursday Thirteen Participants