This post may contain affiliate links. Read my disclosure policy here.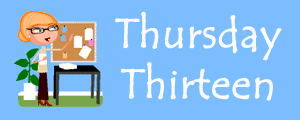 Banner by Chaotic Home
Susan and I are identical twins. People often ask us if we are alike, so I am devoting this Thursday Thirteen to our similarities and next week's Thursday Thirteen to our differences.
13 Similarities Between Susan and Me
We are both stress-merchants and overachievers with perfectionist tendencies.
We both love TV and movies, but don't get enough time to indulge in them.
We both love rock concerts. Before we had kids, we went to at least 3 concerts a year.
We both love each other's child as our own.
We both love to nap. No seriously – we really love to nap.
We were both obsessed with getting high marks at school.
We both talk too much, too fast and give too much information!
We are each other's best friend.
We both love to read. But now that we are so busy, we rarely get time to read fiction.
We both hate housework.
We are both super-friendly extroverts.
We both worry way too much.
We are both nocturnal. Left to our own devices, we would work all night and sleep all day. As it is, we both stay up too late and get our kids into bed too late.
Get the Thursday Thirteen code here!
The purpose of the meme is to get to know everyone who participates a little bit better every Thursday. Visiting fellow Thirteeners is encouraged! If you participate, leave the link to your Thirteen in others comments. It's easy, and fun! Be sure to update your Thirteen with links that are left for you, as well! I will link to everyone who participates and leaves a link to their 13 things. Trackbacks, pings, comment links accepted!
View More Thursday Thirteen Participants