This post may contain affiliate links. Read my disclosure policy here.

My daughters have been making their Christmas Wish Lists since the very first Holiday commercial they saw on tv back in October. Needless to say, the lists get longer and longer with every passing day (and commercial)! And it's starting to get hard to keep up with it all!!
Then I heard about the Step2 Wish Book website! The website allows your children to write letters to Santa (or grandma and grandpa) and make a wish-list of their favorite toys, complete with images and links. Their wish-list can then be printed or emailed to Santa or other family members, making shopping for your little ones so much easier!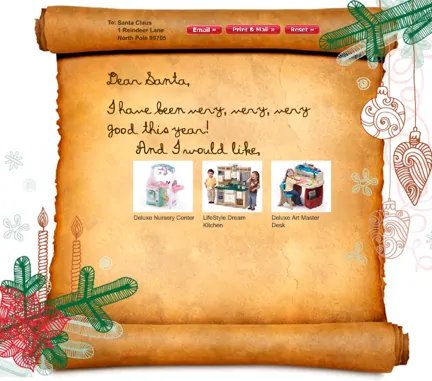 This year, with me expecting our third child later this winter, my daughters are all about baby stuff! They want to be able to take care of their baby dolls just like mom will be taking care of baby brother. So, of course one of the items on their Step2 Wish List is the Deluxe Nursery Center!!!
The Deluxe Nursery Center is absolutely perfect for any little girl in your life! The best part about this nursery center is that it offers multiple play areas, allowing more than one child to play with it at a time! We're all about eliminating those sibling arguments over here!!!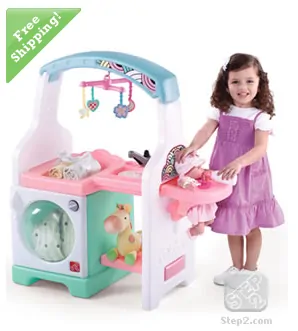 The Deluxe Nursery Center features a changing table, feeding station with a little highchair seat, a sink (keep those hands "clean"), washer for the many loads of "dirty" baby clothes, a mobile to keep "baby" entertained, and even extra storage space for all of those other little baby items! In true Step2 style, the nursery is very durable and wipes clean easily.
My girls will certainly enjoy the Deluxe Nursery Center as an early Christmas present and I'm sure it will get many more hours of play out of it after baby brother arrives in a few months. Until then, they are happy with getting as much "practice" in as possible!
Step2 offers a complete line of imaginative play sets, including kitchens, projects tables, workshops, and clubhouses! The only problem you'll have is limiting how many items your child can put on their Wish List this year!
To help make that holiday shopping a little easier this year, Step2 is hosting a "Sweet Treat" national sweepstakes where you could win up to $1000!!! Entering is so easy — simply visit Step2wishbook.com and enter to win the $1000 grand prize, $500 second prize, or $250 third prize. You have until December 10, 2010 to enter, so go check it out!
Now, my girls are also determined that baby brother needs to have some gifts under the tree this year. While the baby isn't going to be quite ready to play with the Deluxe Nursery Center this year, he is going to love some of these products from Infantino!
He'll be able to call his favorite jungle friends (and for reinforcements from his two big sisters) with the Elephant Camera Phone! The Elephant Camera Phone flips from camera to phone, records a message, and plays eight fun jungle tunes!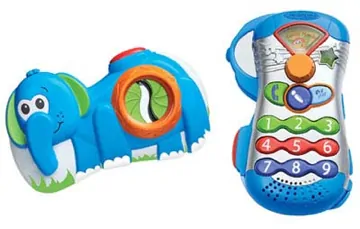 He'll also be able to rock out monkey style with his very own Monkey Pod! The Monkey Pod records and plays back baby's own voice, shuffles through five fun songs, and features a cute little monkey face whose eyes flash to the musical beat!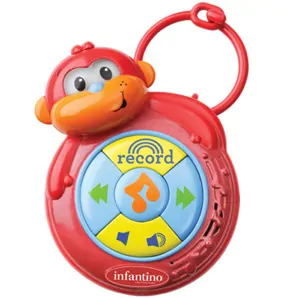 Infantino offers an amazing line of infant toys and toddler toys for both on the go and at home. They also carry some great carriers and feeding products! You can visit them online at Infantino.com to start your Holiday baby shopping!!!
We also want to make your shopping a little easier this Holiday season so we are giving away a Step2 Deluxe Nursery Center, an Infantino Elephant Camera Phone, and an Infantino Monkey Pod all to one lucky winner (approx. value $99)! To enter, just leave us a comment on this post.
This giveaway is part of our Christmas Giveaway 2010 event. If you haven't already, please be sure to visit our main Christmas Giveaway 2010 post to review our giveaway rules and to find out how to earn additional entries.
This giveaway is open to US and Canadian shipping addresses and closes on December 4th. Please see our site's terms and conditions for our complete contest rules.
In order to bring you this review I received a complimentary Deluxe Nursery Center from Step2 and a Monkey Pod and Elephant Camera Phone from Infantino. However, all opinions stated here are my own. Step2 and Infantino are also providing our winner with the prizing for this giveaway and is generously providing gifts for our Under The Tree 2010 program!