This post may contain affiliate links. Read my disclosure policy here.

So, how are you doing with that Christmas shopping? Have you started? Or are you one of those people that put me to shame and have already finished your shopping? I'm somewhere in the middle. I've gotten the "easy" gifts on the list and am now sitting here, staring at the names on the list that aren't quite so easy! Ahem…my parents!
They are the type of people on your holiday shopping list that don't really need anything and they don't give you a "wish list" either! I can't just not get them a gift, so this Christmas I will be doing some shopping at one of my favorite personalized shops — Things Remembered! They are a one-stop-shop for amazing gifts for anybody on your list, including the "hard to shop" fors!

This year I want to share with you some of those unique gifts that Things Remembered has to offer!
The Digital Photo Key Chain — This is the frontrunner for gift ideas for my parents! They love photography and are always wanting to show off pictures of their grandkids (sound like some grandparents you know?). The Digital Photo Key Chain is a perfect gift because it is elegant, sleek, and so simple to use! It can hold up to 100 photos (easily uploaded using the included USB cord and your PC or Mac), but is still small enough to slip inside your pocket or purse!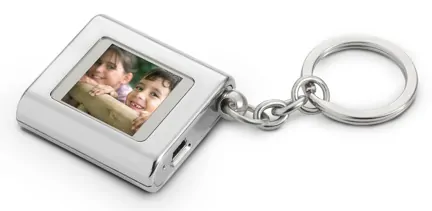 One side of the keychain has a 1.8″ x 1.9″ high quality screen for viewing your photos, while the other side leaves you space to include an engravable personalized message! Again, a great gift for grandparents, your husband, or maybe that new mom in your life! Who doesn't love showing off pictures of those cute little kiddos in their life?
Engravable Playing Card Set — Wouldn't it be fun to send your husband off to poker night in style? Or at least send his cards off in style? The Engravable Playing Cards feature a reflective silver back and the two decks are housed in an engravable silver carrying case with a nice weave texture on the lid. He may not always be the big winner at the card table but at least he'll look like one carrying these cards!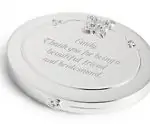 Butterfly Compact — Teenage girl on your list? Yup, me too! My niece is going to love this gorgeous Butterfly Compact. Its polished silver exterior is decorated with a whimsical butterfly design, accented with crystals and complete with a beautiful engraved message. Inside she'll find two mirrors – one regular and one with 2x magnification.
Make-A-Wish Jewelry — Another amazing gift for the ladies! Actually we have two gifts here: the Resilient Heart Necklace and the Radiant Star Bracelet!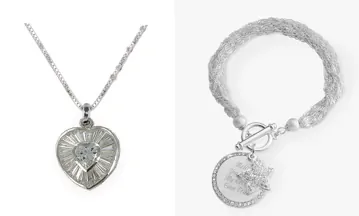 Things Remembered is celebrating it's 13th year of sponsoring the Make-A-Wish Foundation, an amazing organization that makes wishes come true for children with life-threatening medical conditions! Things Remembered has a dozen exclusive personalized gifts that benefit the Foundation and this year's two additions are stunning!
The Resilient Heart Necklace will add some holiday sparkle to your neck with a beautiful crystal heart at the center of a textured pendant. And, since the holidays are all about sparkles, go ahead and add a little more with the Radiant Star Bracelet! The crystal-bordered star charm hangs from multiple intertwined chains, making it look delicate and beautiful! Each piece can be engraved and $2 from each purchase is donated to the Foundation!!! A gift that keeps giving!!!
Well, now that I've helped cross a few things off of your holiday shopping list, you can take a little time to enjoy a nice cup of coffee or maybe spend a little more time looking around Things Remembered and pick up something nice for yourself!!!
Don't forget to stay connected with Things Remembered on Facebook and Twitter for more great holiday gift ideas!
We are excited to give away one of these fabulous personalized gifts from Things Remembered to one lucky reader! The winner will choose one of the items listed in this post (Digital Photo Key Chain, Playing Card Set, Butterfly Compact, Make-A-Wish Bracelet, or Make-A-Wish Necklace) with their choice of engravable message. To enter, just leave us a comment on this post telling us which item you'd like to have!
This giveaway is part of our Christmas Giveaway 2010 event. If you haven't already, please be sure to visit our main Christmas Giveaway 2010 post to review our giveaway rules and to find out how to earn additional entries.
This giveaway is open to US shipping addresses and closes on December 4th. Please see our site's terms and conditions for our complete contest rules.
Thank you to Things Remembered for providing me with an engraved Digital Photo Key Chain for review purposes, for providing prizing for this giveaway, and for blessing our Under The Tree 2010 program with a Things Remembered item!