This post may contain affiliate links. Read my disclosure policy here.
Every February in the United States, there is a special focus on African American history. I welcome the opportunity to focus on the obstacles that members of this race have faced and the thin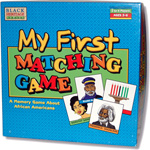 gs that they have achieved in spite of it.
I looked forward to the chance to review some of the products in the Black Heritage series of games and activities by GEEBEE Marketing. My First Matching Game gives the standard matching game a twist. For one thing, all the cards feature prominent African American heroes in the area of sports and entertainment, science, and history. Unlike some matching games, there is a board with the pictures (sorted by category), so even the youngest child could play by simply matching the card they draw to the picture. The other educational feature is that the rule book gives a brief biography of each person's achievements. Older children could be asked to recall the facts about the card that they drew. If you are looking to teach your child (or yourself) about Black Heritage, this game is a fun way to do it.
There is a series of puzzles which feature artwork by well-known artist Annie Lee. I

f your family enjoys puzzles, why not showcase American art while fitting those pieces in?
Look for these products in the Wal-Mart Black History area this month.  You can also find them online at Pressman Toy Company, and other sites.
If you'd like to win one of the Annie Lee puzzles, as well as My First Matching Game, please leave a comment. We'll draw a winner on March 1.