This post may contain affiliate links. Read my disclosure policy here.
Do you ever roll over in the morning (or in the middle of the night) to find a tiny little body or two tucked in your bed?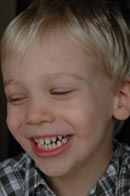 It is Jackson's favorite game, to creep into our room in the middle of the night and sleep in our bed.
The warm morning snuggle makes up for the loss of leg room during the night, so sometimes I don't mind too much.
But today the sweetness meter burst over the top when he woke up and began to sing "You're beautiful, it's true…" My little four year old boy singing to me on a sunny spring morning – James Blunt serenading me himself couldn't have touched it.