This post may contain affiliate links. Read my disclosure policy here.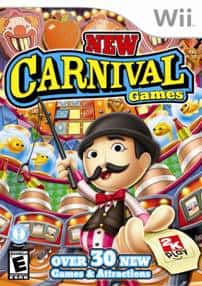 "I wanna play Carnival Games!"
This is the sentence that greets me multiple times a day ever since I received a copy of the New Carnival Games for Wii in the mail. I can hardly blame the kids, to be honest. New Carnival Games is fun. With six different categories to choose from, each category boasting games of stratgey and chance, New Carnival Games is something all three of my children can enjoy.
The games range from tossing a tennis ball into a fish bowl, to shooting a ball at a clown, knocking out his teeth, to a Haunted House where you can shoot ghosts and goblins. You can even try your hand at driving in the Bumper Cars. Every time the kids play a game they have the opportunity to earn tickets, just like a real Carnival. Those tickets can later be turned in for prizes, or used on games that require tickets to play. It ignites a bit of cometitive drive, allows the kids to use strategy and, for my oldest, it is giving him a chance to practice his math skills.
Who says video games are a waste of time?!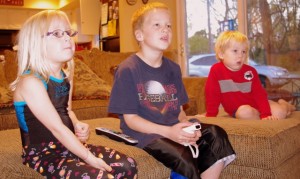 In the spirit of full disclosure, I will say that some of the games are a little challenging for the kids – even for my oldest – but there are enough of the easier games to keep it balanced making this a fun addition to our Wii library.
New Carnival Games retails at only $39.99 making this a great stocking stuffer or under the tree gift. It is available for both the Wii and for Nintendo DS, which means it could potentially be used as you head out on your holiday travels.
So what do you think? Would you like the chance to win a copy of New Carnival Games for your family? Great! All you have to do is leave a comment to enter.
This giveaway is part of our Christmas Giveaway 2010 event. If you haven't already, please be sure to visit our main Christmas Giveaway 2010 post to review our giveaway rules and to find out how to earn additional entries.
This giveaway is open to US shipping addresses and closes on December 4th. Please see our site's terms and conditions for our complete contest rules.
Thank you to Nintendo for providing my family with a copy of New Carnival Games for Wii to review and for providing the prize for the winning comment and an additional copy for our Under The Tree 2010 program!