This post may contain affiliate links. Read my disclosure policy here.

WEEBLES wobble, but they don't fall down!
Oh, those lovable little WEEBLES! No matter how hard you try you just can't knock them down. (Kind of a good example for life, don't you think?) I grew up with WEEBLES and, like some of the other toys from my childhood, I was very excited to see them make a reappearance now that I have kids!
Today's WEEBLES maintain their original egg-shaped, wobbly form and lovable faces but are a little bigger than the WEEBLES of past. I love this alteration to the WEEBLES because it makes them safer and easier for little ones to handle. The WEEBLES of today also have a whole new set of accessories for interactive play!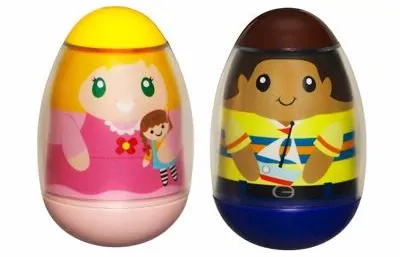 The WEEBLES Musical Treehouse from Playskool offers your child's WEEBLES figures a colorful and musical place where they can wobble, climb, slide, hide, and dance! Turn the handle and watch as the WEEBLES go up the escalator and then send them spiraling down the twirly slide. When the WEEBLES reach the bottom of the slide they are greeted with a fun song, music, or some sort of other silly sound. My girls absolutely love this feature and are often found pushing that little sound button before their WEEBLES ever make it down the slide!!!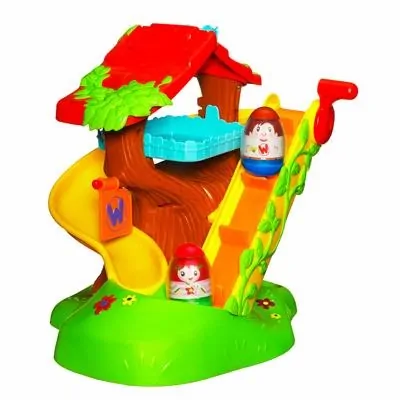 The Musical Treehouse playset also features a wobbly deck and a lookout post where the WEEBLES can hangout or have a little dance party! My daughters also love the secret little space inside the tree hidden behind a little door. I love that little space because it's a great spot to store the WEEBLES when we're not playing with them!!!
PLAYSKOOL has other great playsets available this holiday season, too! The Wheel Pals Animals are colorful and fun animal-themed toys that will have your toddler zooming around your house in hours of action packed fun! The Wheel Pals animals are just that — little animals that move around on wheels instead of legs! I'm pretty partial to the penguin! Zoom the Wheel Pals around the living room floor, take them on a jungle exploration through the Jungle Journey playset, slide down a haystack at the Rolling Acres farm, or have an icy-good time at the Polar Party track! Any way you spin it, it's hours of fun!!!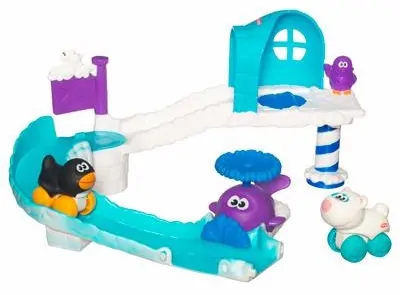 If your little one isn't quite ready for all that zooming or wobbling, then check out the Explore 'N Grow Musical Gear Center from PLAYSKOOL's Explore 'N Grow line of infant development toys. Your curious little one will love the movable gears, colorful happy faces, music, and rolling balls. The Musical Gear Center is also a great way to help practice baby's fine motor skills as the colorful gears can be stacked and reconfigured for even more silly, spinning fun!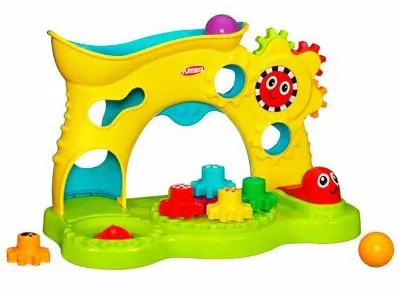 WEEBLES MUSICAL TREEHOUSE — Ages 18 months & up — Retail Price: $29.99
WHEEL PALS ANIMAL TRACKS PLAYSETS — Ages 18 months & up — Retail Price: $14.99
EXPLORE 'N GROW MUSICAL GEAR CENTER — Ages 9 months & up — Retail Price: $19.99
Each of these toys are available this holiday season and can be purchased at most major toy retailers nationwide and on HasbroToyShop.com. Your little one is going to love finding one of these great toys under the tree this Christmas and you're going to love watching their little faces light up as they explore and play with these fabulous new toys!
Well, make room under your tree this Christmas because we are giving away all three of these fabulous toys to one lucky reader! That's right, one winner will receive the WEEBLES Musical Treehouse, a Wheel Pals Animal Tracks playset, and the Explore 'N Grow Musical Gear Center! That's a gift pack of nearly $65! To enter, simply leave us a comment below!
This giveaway is part of our Christmas Giveaway 2010 event. If you haven't already, please be sure to visit our main Christmas Giveaway 2010 post to review our giveaway rules and to find out how to earn additional entries.
This giveaway is open to US shipping addresses and closes on December 4th. Please see our site's terms and conditions for our complete contest rules.
Thanks so much to PLAYSKOOL for providing my family with these amazing toys for review purposes, for providing the prizing for this giveaway, and for providing the Explore 'N Grow Musical Gear Center for our Under The Tree 2010 program! Receiving complimentary products in no way influences my opinions. All opinions stated here are my own.