This post may contain affiliate links. Read my disclosure policy here.

Do you have a favorite classic toy from your childhood? One that makes you sit back and smile every time you think about it or makes you wish you could pass that experience on to your kids? For me some of those toys include the pogo stick, the hula-hoop, and the kaleidoscope!
While my girls are still a bit too young to navigate a hula-hoop or pogo stick (do they even make pogo sticks anymore?), they have no problem delighting in the magical color and shapes they find in a kaleidoscope!
Kaleidoscopes To You has been bringing that magical experience to kids and adults now for more than 20 years!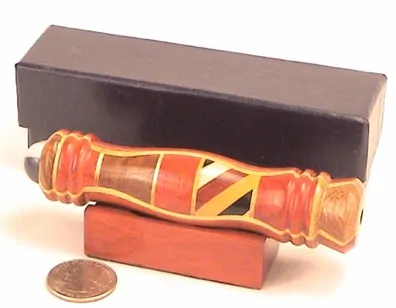 Kaleidoscopes To You offers an array of kaleidoscopes and teleidoscopes from wood to brass to kaleidoscope jewelry! The wood, laminated or solid, is absolutely beautiful and makes each one something you will want to display (base included). They truly have a kaleidoscope or teleidoscope for everyone!!!
Did you know…
A kaleidoscope is a tube of mirrors containing loose, colored objects such beads or pebbles and bits of glass. As the viewer looks into one end, light entering the other end creates a colorful pattern, due to the reflection off the mirrors. (from Wikipedia)

A teleidoscope is a kind of kaleidoscope, with a lens and an open view, so it can be used to form kaleidoscopic patterns from objects outside the instrument, rather than from items installed as part of it. (from Wikipedia)
You will be amazed at how much fun your your kids (no matter what age) will have with one of these and how quickly the adults in the room will reminess about about their own kaleidoscope memories. It's so much fun to watch as our 4.5 inch Wooden Teleidoscope makes its way into the hands and up the eyes of my dad, then to my 16 year old nephew, and finally to my 2 year old daughter. All with that same look of wonder and delight!
With the beautiful craftsmanship of Kaleidoscopes To You this will be a timeless gift that can be passed from generation to generation!
We want to give that same bit of timeless fun to one of you by giving away one 4.5 inch Laminate Wood Teleidoscope (valued at $28.99). To enter, just leave a comment below. Maybe share one of your favorite classic toys from childhood!
This giveaway is part of our Christmas Giveaway 2010 event. If you haven't already, please be sure to visit our main Christmas Giveaway 2010 post to review our giveaway rules and to find out how to earn additional entries.
This giveaway is open to US shipping addresses and closes on December 4th. Please see our site's terms and conditions for our complete contest rules.
Kaleidoscopes To You has provided product for review purposes, the give away, and to our Under The Tree 2010 program! All opinions stated here are my own.