This post may contain affiliate links. Read my disclosure policy here.

What are your favorite things to cook or bake during the holidays? I love to make a cheesy potato casserole, and I like to think that I make a mean green bean casserole as well.
For a long time, I have gotten by using a Pyrex baking collection that I received as a wedding gift. It has served me well. But sometimes, especially around the holidays, I would catch myself longing for a gorgeous bakeware set. Something pretty, sturdy and oven, microwave and dishwasher safe.
Yesterday I received THIS!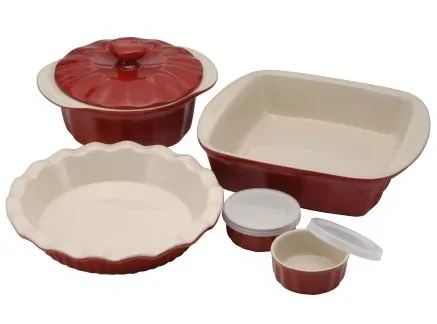 Isn't it gorgeous?!?! It's the 8 piece Oven Fresh Ceramic Baking Set from Oneida. I may just have looked like a young child at Christmas, when I hurried to open it. I am in love.
This baking set includes:
2 1/2 Qt Baking Dish
1 1/2 Qt Casserole
Pie Plate
2 – 4 oz. Ramekins w/Lids

So, the baking dish will hold my cheesy potato casserole perfectly. My green bean casserole will look scrumptious in the 1 1/2 quart casserole and if there are any leftovers, I can store them in the ramekins and place them in my refrigerator. Now what to do about that pie plate? I will admit, I have yet to make a pie. Who wants to send me their favorite pie recipe?
Last night I prepared a side dish in the 1 1/2 quart casserole. There was a bit left over, so I placed the lid on and into the fridge it went. This afternoon for lunch, I heated it right back up in the microwave and then you guessed it, right into the dishwasher it went. I love when the things in my life are low-maintenance!
I can't wait to use my baking set this Christmas, especially because it is so cheery and red, a perfect Christmas color.
We want to jazz up your holiday meals by giving one of you an 8 piece Oven Fresh Ceramic Baking Set from Oneida. Just leave a comment below and let me know what your favorite holiday dish is to prepare. Oh and I am serious about the pie recipe. Feel free to email or leave one in the comments.
This giveaway is part of our Christmas Giveaway 2010 event. If you haven't already, please be sure to visit our main Christmas Giveaway 2010 post to review our giveaway rules and to find out how to earn additional entries.
This giveaway is open to US shipping addresses and closes on December 4th. Please see our site's terms and conditions for our complete contest rules.
Thank you Oneida for providing us with an 8 piece Oven Fresh Ceramic Baking Set for review and an additional set to use as prizing.