This post may contain affiliate links. Read my disclosure policy here.

With hours of Holiday shopping, parades, and events looming on the horizon, I have to tell you how excited I am to have the Britax B-Ready stroller on my side! Here's why…
Recently we took the Britax B-Ready with us on our trip to St. Louis. Typically my little independent toddler insists on walking everywhere, but I knew this trip would include quite a bit of walking. I also knew that, being five months pregnant, carrying a tired toddler around really wasn't going to be an option!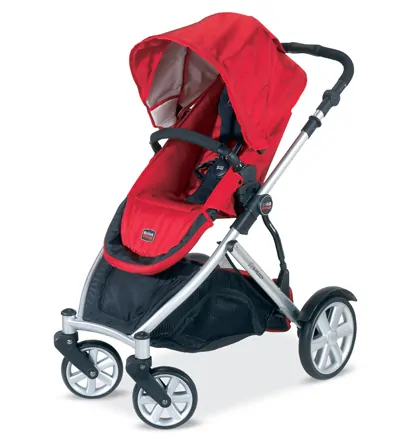 The Britax B-Ready folds up so nicely that we didn't even give it a second thought to pack it along with the rest of the stuff filling the back-end of our SUV. Seriously, this stroller packs up pretty flat, even with the seat still attached, unlike many of the other strollers I've seen.
But how did the Britax B-Ready perform? Like a dream! First, the seat on the stroller sits up higher than most strollers which my daughter loved! She had no problem seeing all the sights and I think she felt more like she was a "part of things" because she was still eye level with all of her cousins and big sister.
The higher seat also allows for an amazing amount of storage space below the seat! I mean an AMAZING amount of space! I quickly became the "go-to" person for stashing extra sweatshirts, jackets, camera bags, snacks, and water bottles. And we probably could have still carried more. The extra room (and, thus, extra stuff) didn't affect how easy it as to push the stroller!!!
Our other favorite feature, without a doubt, is the adjustable handle height! When you're a family that includes a 6 foot dad, a 5 foot mom, a preschooler and a toddler, all who "want a turn" to push the stroller, ADJUSTABLE HEIGHT becomes a priority! The adjustable handle makes it so easy and comfortable for anyone in the family to push the B-Ready, which will be so handy when baby brother comes in February!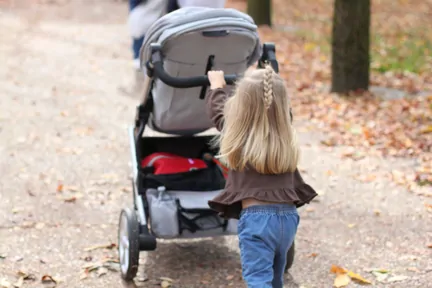 Other great features of the B-Ready:

No re-thread, adjustable, 5-point harness with head pad
Reversible top seat with 3 recline positions
Comfort ride 4-point suspension
Removable storage bag with insulated drink holders
Easy foot-controlled break
Large canopy with sun-visor and ventilation window
Fabric Options – Black, Green, Red, Silver
Included accessories: adult cup-holder, rain cover, CLICK & GO BRITAX CHAPERONE infant car seat adapters
That last feature, the infant car seat adapters, is so amazing because typically you have to pay extra for those! With the Britax B-Ready, you can choose to use the stroller right from birth by easily using your child's Britax car seat and the included car seat adapters! Again, this is so awesome because it makes the B-Ready the only stroller you'll every need!!!
But wait, what about when that next baby comes along or what if I have twins? Won't I need one of those big double stroller? Not at all! The Britax B-Ready has you covered no matter when that next baby comes along or if you happen to be embarking on the world of twins! With the additional B-Ready Lower Infant Car Seat Adapter or B-Ready Second Seat (each sold separately), your B-Ready easily converts to an in-line double stroller! No more big, bulky double stroller!!!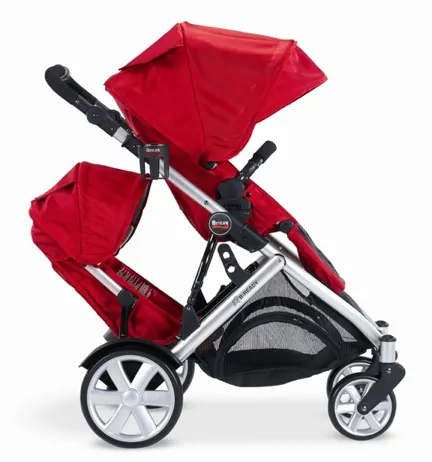 With the additional second seat and the optional B-Ready Bassinet, this amazing stroller has 14 different configurations! FOURTEEN!!! You really need to check out the B-Ready product demo and video for yourself to appreciate everything this stroller has to offer!
If you are in the market for a new stroller, whether this is your first baby, you're ready for an upgrade, or the next baby is on it's way, you will definitely want to check out the Britax B-Ready! I honestly cannot say enough good things about this stroller and I'm very excited to use it as we expand our family this Winter!!!
Ok, now it's your turn! We want to give one of you this amazing stroller for the holidays! Oh Yes! One of our lucky readers is going to win their very own Britax B-Ready (valued at $499.99)!!! To enter, simply tell us what feature of the B-Ready you are most looking forward to!
This giveaway is part of our Christmas Giveaway 2010. Be sure to click over and see our rules about entering to win. You CAN earn additional entries by subscribing to our feed, "liking" us on Facebook or subscribing to our newsletter.
Again, all of the details are on our main Christmas Giveaway 2010 post. You will also find links there for all of our Christmas Giveaway 2010 prizes that are up for grabs.
This giveaway is open to US and Canadian addresses and closes on December 4th. Please see our site's terms and conditions for our complete contest rules.
We want to thank the very generous people at Britax for providing us with a B-Ready stroller to review and another stroller to give away.