This post may contain affiliate links. Read my disclosure policy here.
Hey Ladies, this is Amber here, continuing my series of posts on the ins and outs of blogging.
This is the third post in the series — if you want to get caught up check out the earlier posts about why people blog and choosing a blog platform.
Once you've decided why you're going to blog, and whether you're going to use Blogger, WordPress.com, WordPress.org or another platform, you're ready to get down to business and actually start blogging. But before you do, you have to consider the all-important question of what the heck to call your blog anyway.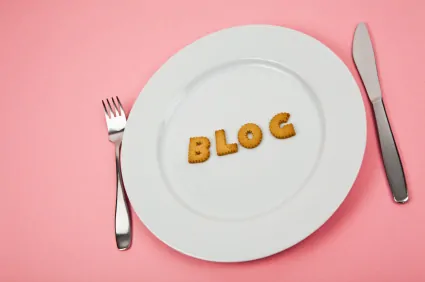 There are a few schools of thought on choosing a blog name, but here are some things to consider:
What is your blog about? If you plan to write about parenting, using the word 'mom' in your blog name is great. If you plan to write about landscaping, and you just happen to have kids, you may want to leave it out.
Keep it simple. The shorter your blog name, and the easier it is to spell and remember, the easier it will be for people to find you. Especially when you consider that people from all over the world, some with very different backgrounds, may be visiting your blog.
Check for availability. This is a biggie. If you love the idea of calling your blog dooce.com, I have bad news for you. And even though dooce.co.uk is technically available, I wouldn't recommend snapping it up. A quick search on GoDaddy.com (or your webhost) will let you know if your blog name is available, and a quick Google search will let you know if someone else is already using that name, or something very similar.
Will the name hold up? If you name your blog "My Pregnant Musings" during your first pregnancy, the name may feel a little worn by the time your last child enters kindergarten. While you can change your blog name, you can expect that some people will have a hard time finding you, and your following may take a hit.
Think about SEO. Most people land on new web pages either through links from another site, or through search engines. Your blog's name won't affect your referral rate, but it may affect your search-engine friendliness. For instance, the name ProBlogger helps people who are interested in professional blogging find Darren Rowse through Google.
Before I wrap things up, I have a confession to make. My own blog is called Strocel.com, which violates every rule of naming your blog. It's not easy to remember, it's meaningless and most people pronounce it incorrectly – even people I've known in person for years (FYI – It's my last name, and it's pronounced STRAW-suhl). I can say from experience that having a less-than-perfect blog name is not the end of the world. All the same, if I could go back in time to May, 2003 when I chose it, I would choose differently. So learn from my mistake, and take some time to come up with the right name for your blog.
How did you come up with the name for your blog? Has it held up over time, or would you do it differently next time? What do you think is the most important thing to consider when naming a blog? I'd love to hear your thoughts!
Written by 5 Minutes for Mom Contributing Editor, Amber Strocel. Check out her poorly-named blog at Strocel.com.