This post may contain affiliate links. Read my disclosure policy here.
I feel like my kids are often bombarded with their favorite tv cartoon characters. It's easy to see how it happens. First tv or movies, then clothes…and dolls…and bedding….and Halloween costumes! It's never ending!!! But, where I do like to limit our tv/movie cartoon character influence is on the bookshelf!
I love finding an author that my girls enjoy, one that I enjoy reading, and stocking our shelves with those books! It was Sandra Boynton when they were really little and then Dr. Seuss as they got a little older. Lately though some of our favorite books to read together have been coming from the team of Shankman and O'Neill!
We've told you about Ed Shankman and Dave O'Neill before when we shared with you how much we loved some of their books — I Met a Moose in Maine One Day, The Cods of Cape Cod, and The Boston Balloonies. Well, it looks like our new favorite author/illustrator team is back at it again with a new addition to their book line-up and you are going to love this one, too!!!
Champ and Me by the Maple Tree is a fun tale about an adventurous little girl who befriends the mythical creature who lurks in Lake Champlain — Champ! Together they explore the Vermont countryside and they learn to not only appreciate the serenity of Vermont but also their friendship!
There are so many things that my kids and I love about the Shankman and O'Neill books, including Champ and Me by the Maple Tree. The writing is so creative and easily flows as you read it. My 4 year old usually has the book memorized after I read it to her just a few times! The illustrations are, of course, absolutely beautiful! But it's when you put it all together that you get pulled into the story, making you want to read it again and again and making you want so badly to visit that place. I think that's what I love most about these books — the stories are fun but each book takes place in a real place! Maine, Boston, Cape Cod, and now Vermont!!!
Champ and Me by the Maple Tree, recently awarded the Gold Seal from the Mom's Choice Awards in Picture books, has quickly become our favorite Fall read (I love seeing the autumn Vermont pictures in the book) and I know it will become your family's favorite as well! You can read more about the book and other Shankman and O'Neill books on their website, on Facebook, and on Twitter!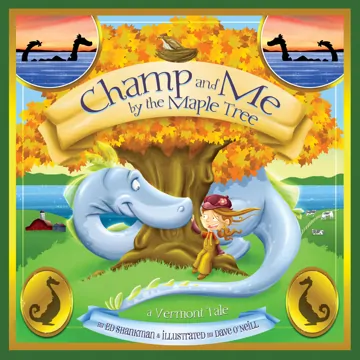 We are also so excited to be giving away one signed copy of Champ and Me by the Maple Tree to a lucky 5 Minutes for Mom reader! To enter, visit the Shankman & O'Neill website and tell us which other book looks interesting to you!
This contest closes October 29 and is open to US shipping addresses. Please see our site's terms and conditions for our complete contest rules.
Shankman and O'Neill generously provided both a review copy and giveaway copy of "Champ and Me by the Maple Tree"!