This post may contain affiliate links. Read my disclosure policy here.
Tonight, story time was an event.
Phil, Olivia and I all climbed onto Jackson's bed. Once we were comfortable, Jackson began to read his new book – and when I say "his," I do mean "his!"
Yes – Jackson wrote this book himself!
My son is the author of a beautiful, hardcover, full-color, professionally printed book from Think It Ink It Publishing.
Okay – my son's edition isn't lining the bookstore shelves and we are the only family that will ever curl up and read about the adventures of Lukey and Freddie. But to a six year old boy, having the story he wrote professionally printed, with his name and photo on the cover, is seriously exciting!
And as the mom walking my son through the creative and "publishing" process, I am just as excited. It was a fantastic creative exercise for my son and it really got him interested in writing. And what better way to encourage him as he learns to read than for him to read a book he wrote himself!

So what exactly is Think It Ink It and how can you get your child writing their own book?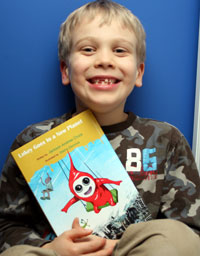 "Think It Ink It is a write-your-own story workbook for kids (completed in soft cover, and then online) that is transformed via the internet into a young author's very own hard cover, professionally illustrated book. There are four blank wordless picture workbooks to choose from, all available from ThinkItInkItPublishing.com, with selections appealing to both boys and girls."
Each hardcover book even comes complete with your child's dedication, picture and author bio.
It is designed for children from ages four to twelve. Jackson is six and it worked wonderfully for him. He dictated his story to me and I wrote it in the workbook. He then helped me type it into the computer. And since he is learning to read, he actually can read his book himself! I can see Think It Ink It working well at each stage of learning – from the pre-reader who has their parent working with them, to the older child who independently creates their own masterpiece.
Out of all the products I have reviewed for children, this is one of the best I have ever seen! With Think It Ink It, children are encouraged, empowered, and excited to get creative and get writing!

Think It Ink It is an exercise in writing AND reading and therefore is full of benefits for children. How? Our books have no words. Without words to read, our writers have to be creative and use their imaginations to translate the pictures into words and stories that make sense.
This process is so packed with benefits, I can't even list them all here! Kids are developing a wide range of literacy skills such as sequencing, story development, character development, interpretation, organizing, drafting, editing, cause and effect relationships, self expression, and so much more…
I can't recommend Think It Ink It more highly! This is such a fabulous creative exercise for kids and the finished product is such great quality that your child will beam with pride (and you will hold on to it as a lifelong keepsake!)

Head over to Think It Ink It and get a child you know started on the road to publishing.
And don't forget to leave a comment here for a chance to win a $50 gift certificate to Think It Ink It Publishing, which would allow you to order a soft cover workbook ($12.95) and then order the hard bound version ($29.95).
This contest is only open to US shipping addresses. We'll announce the winner on Friday, February 1st. Please remember to check back then to see if you won and check your email (including your junk mail folder).