This post may contain affiliate links. Read my disclosure policy here.
It's time for those New Year's Resolutions… Get Fit Fast with SELF Fitness DVDs
It is time. I have to put down the chocolates, wipe my mind of the memory of pumpkin pie smothered in whip cream, and get this belly bulge under control.
My husband always makes time to get to the gym. But my son asked me months ago, "Mom – how come you never go to yoga anymore?" (It has been about two years since I got to a class.)
But life as a work at home mom just doesn't seem to include time to go to the gym. I am constantly behind in everything – especially the sleep department – and so packing up the kids and heading to the gym just isn't an option for me right now.
So, this New Year I am thrilled to find SELF magazine's fitness DVDs. 2 new DVDS are in stores now – Trim and Tone Fast *and* Ultimate De-Stress Yoga.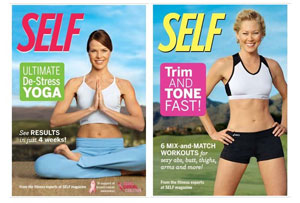 Created with the fitness experts at SELF, these videos are designed to trim, tone and reshape your body – fast!
With fun and energizing moves, achieve the body you've always wanted. SELF: Trim & Tone Fast and SELF: Ultimate De-Stress Yoga. Visit their site for more info.
I can fit in a work out without leaving my house. As a busy mom, that is what I need!
If you want to get fit at home with SELF, leave a comment here to enter our giveaway. Five of you will receive a fitness DVD pack. Each pack includes the SELF: Trim & Tone Fast DVD and the SELF: Ultimate De-Stress Yoga.
We will announce the winners Thursday, January 31st. (This contest is open only to US mailing addresses.)