This post may contain affiliate links. Read my disclosure policy here.
Has your dinnertime just become part of the rush of the day? I feel like it should be a time for us to sit down, give thanks, and connect as a family. Unfortunately, it is often a rushed affair with some bickering, several different conversations going on, and perhaps the TV in the background. This year I would love to make a conscious effort to have dinnertime be a relaxing time when we all feel like we are able to speak and listen to one another.
The Family Dinner Box of Questions is a great new centerpiece to our dinner table. Now we can go around and answer questions such as
If you could have a wild animal from anywhere in the world as a pet, what animal would you choose?
What is your favorite smell in the whole world?
Which amusement park is your favorite and what is your favorite ride?
A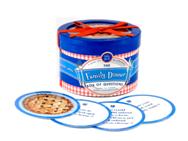 s you can see, some of the questions could be answered by three-year-old Kyle, and almost all are relevant to nine-year old Amanda. I know that she enjoys asking and answering these questions, because it demonstrates to her that value her opinions. She also likes seeing different sides of Mom and Dad, so we get to see how much we know about each other.  When I asked the favorite smell question recently, Kyle jumped in quickly to answer for Daddy with "coffee!"
The Box Girls have designed cleverly packaged questions based on specific holidays (Thanksgiving, Christmas, Passover), Girl's Night, Slumber Party, and so many more. They also have a blog with some great posts answering sample questions from the various box sets.
Two readers will win the Family Dinner Box of Questions (or another box of your choice from their site). If you'd like to win, please leave a comment on this post, and check out the New Habits in the New Year guidelines at this main post.
Come back on January 9 to see if you have won. Please be sure that the email address that you provide is one that you check regularly, and also check your spam folder when the winners are announced if you see your name.