This post may contain affiliate links. Read my disclosure policy here.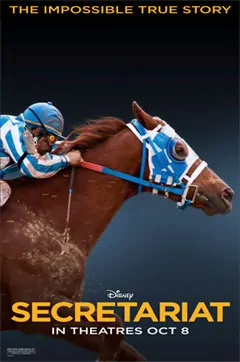 True to form, Secretariat does not disappoint.
The horses stomp and snort, throwing back their masked heads as the ponies lead them into their gates. They are tethered power, ready to explode.
Incredibly, we are in the gate with Secretariat, our fingers digging into his red mane, tightening into white fleshed grasps of reins and hair as we become jockey Ron Turcotte. We feel the pressure, the magnitude of the moment.
Then suddenly we break out of the gates. Hooves crash as we race through thunder and mud, pushing forward, gaining speed. We are no longer Turcotte. We are Secretariat – infused with unstoppable power, catapulting into a history we can't even comprehend.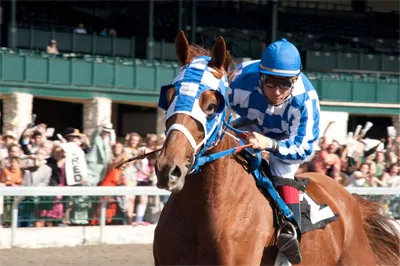 The entire audience is caught up in the drama, each of us screaming silently for Secretariat to hold on to his lead. We know he will win. We know the records. But we are in the moment, living it in real time.
It is that view point that director Randall Wallace sought for his audience. As he told me after the premiere, he felt validated watching the movie with its first audience. He did not want viewers to be passive but rather to experience the story. Wallace explained he wanted us "to be Secretariat and feel what the characters felt."
Wallace went on to share with me his belief that the cardinal sin in movie making is to have contempt for the audience, treating the audience as "slow," where in fact they are way ahead of where we assume they are.
I loved listening to Wallace talk about the power of movies – the incredible opportunity for bringing together art forms to create the ultimate storytelling. I bubbled over in agreement as he spoke, expressing the very reason that I am obsessed with movies.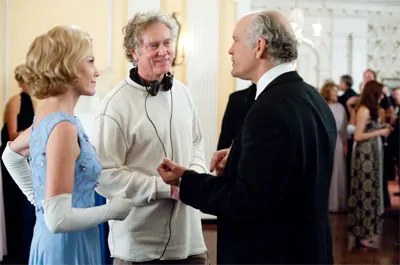 Hearing Randall Wallace's passion for film-making, his dedication to the story of Secretariat and his enthusiasm for his talented roster of actors, including Diane Lane as Penny Chenery, John Malkovich as Lucien Laurin, James Cromwell as Ogdin Phipps, Fred Dalton Thompson as Bull Hancock and young Amanda Michalka as daughter Kate Chenery Tweedy, makes clear why this telling of Secretariat's story is so authentic and powerful.
Penny Chenery and Secretariat were safe in Wallace's hands as he shaped a film that perfectly communicated their voices.
And we the audience are the lucky ones, we get to win alongside Penny and Secretariat. Randall Wallace brings us along for the ride, and we leave breathless.
Secretariat opens in theaters October, 8th, 2010. You can also find Secretariat on Facebook at: Facebook.com/Secretariat and follow Secretariat on Twitter at: Twitter.com/SecretariatFilm.
YOUR TURN: What do you look for in a family film? Are you considering seeing Secretariat?
Written by Janice Croze, co-founder of 5 Minutes for Mom. Talk with me: @5minutesformom and Facebook.com/5minutesformom.
Please Note: 5 Minutes for Mom attended the World Premiere of Secretariat in Hollywood as guests of Walt Disney Pictures. As usual, our opinions are 100% our own.