This post may contain affiliate links. Read my disclosure policy here.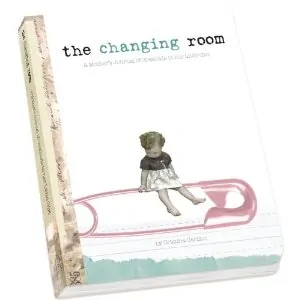 As moms, most of us desperately want to preserve our children's memories. We blog, we take photos, we scrapbook, we write journals.
For those of you who are looking for something to help guide you in recording your thoughts of this very special time, Cristina Carlino has written the changing room. It's called "a mother's journal of gratitude to her little girl."
Now my own little girl is not so little anymore. She just turned twelve. BUT I was surprised when I looked through this book how useful it could be to me today. I had such resolve to keep a journal for Amanda to read when she was a mother, but I'd write a nice full entry, and promise to do better in the future, and then many many months would go by, where I wouldn't write at all. Is anyone with me on this?
For all of those who are filled with regret for not recording your thoughts about those early years of motherhood, I think that this is just the book for you.
The prompts go back to finding out you were pregnant and bringing the baby home. But more than that we are invited to explore our own early years with our mothers. We also look back to our childhood home, and how our own home changed with the addition of a baby.
The beautiful classic muted colors and artistic design inspire just as much as the prompts.
This journal is not only a great keepsake for your daughter to have when she's a woman, but it's a great way to remember things from your life, write them down, and process them within the framework of the time, distance and perspective that being a mom has given you.
What a lovely idea — a perfect baby gift, gift for a friend or sister, or just for you. All net proceeds go to The Joyful Heart foundation which benefits abused children and adults.
Find out more about Cristina Carlino and her project at her Facebook page or her blog.
If you like the sounds of this, but you think in blue instead of pink, Mariska Hargitay is working on the boys' version of the Changing Room, so stay tuned. . . .
But for those of you who love the idea of this journal, please leave a comment as your entry. We will award journals to 2 winners (U.S. and Canadian shipping addresses). We'll announce the winners in our 5 Minutes for Books column here on Monday September 27.
You can buy the changing room journal on amazon.
The winner of the complete set of 39 Clues books is #50 Achinthya.

The winner of The Wild Soccer Bunch book is #11 Marj M.
Original post by book blogger Jennifer Donovan, who manages 5 Minutes for Books and blogs at Snapshot.
Disclosure: I received a copy of the journal for review purposes. Links to amazon are affiliate links, for which I earn a small referral fee if a purchase is made.