This post may contain affiliate links. Read my disclosure policy here.
We have got a Christmas treat for you – a jewelry giveaway worth $100.00 from Two Belles and a Bead!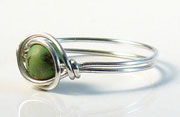 Two Belles and a Bead are a mother and daughter team – Karen & Crystal (aka "Momma Belle & Daughter Belle") – of jewelry designers based in south Texas.
I first met Crystal at our Ultimate Blog Party last year when I visited her blog Song of my Soul. I was impressed with her site design – and with this fabulous ring she was giving away in a contest. I nearly fell over when I won the ring – I am never on that end of the contests!
I loved the simple, elegant design of the ring so much I asked Crystal if she could make me a necklace and earrings to match. The ring is genuine green/brown turquoise hand wrapped with sterling silver wire. The earrings and necklace are green/brown turquoise with sterling silver Bali style accents and sterling silver components. (The retail value of the set is $35.00.)
With jewelry as gorgeous as this set, I knew you would want to hear about them!
Janice: Can you tell us a bit about Two Belles and a Bead?

Crystal: We make a wide variety of jewelry specializing in semi-precious gemstones, Swarovski crystals, chain maille, sterling silver and 14kt gold filled designs. Our business goal is to provide spectacular high quality jewelry designs at a fantastic price to every Belle, no matter her economic status. We believe in real jewelry for real people that is affordable and will last for years to come.

Janice: How long have you been making jewelry?

Crystal: We have been making jewelry for about three years. It started around the holidays a few years ago, and we haven't looked back since! We started making simple beaded pieces with very cheap materials, and eventually we grew and expanded into precious metals and gemstones. We drool over gemstones! We continue to expand and learn new skills and techniques every month. We're completely self taught, and we're always pushing ourselves to learn something new. You could call it a passion.

Janice: What made you want to start your own business?

Crystal: We started making jewelry purely for the love of it. After looking at what jewelry was available to us locally, we decided we could make our own pieces and put our own spin on them. We started out making things for ourselves and for gifts, and then our friends and family members started encouraging us to sell. They were repeatedly requesting custom orders and suggested we open up our own business complete with a retail website. We started slowly, just selling from an online example gallery, and finally this year we launched our site! We work hard at keeping the passion for design as the foundation of our business. We never want to make it solely about business. We truly love what we do!
For this contest, Two Belles and a Bead is giving away these three pieces or a $100.00 gift certificate that is valid for anything on their site and is good for 12 months after the date of issue.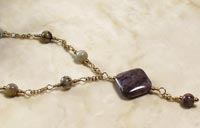 The first piece is a Purple Moss Agate & Gold Necklace (retail value $60.00.) This gorgeous necklace is made with purple moss agate gemstones set on 14kt gold filled chain. It is 18 3/4″ long and is secured with a 14kt gold filled lobster clasp.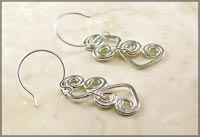 The second piece is a pair of Double Heart Earrings (retail value $23.00.) Heavy duty sterling silver wire hand forged into hearts and hung on round sterling silver earwires make up these simple and fun earrings. They are 1 7/8″ long from top to bottom.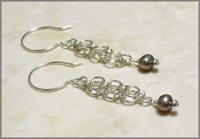 And the third piece is a pair of Double Cross Chain Maille & Freshwater Pearl Earrings (retail value $17.00.) Peacock colored freshwater pearls are hung from lengths of double cross chain maille weave. Each ring that composes these earrings are hand formed and sawed and gently woven into the pattern. They are 2 3/8″ long from top to bottom.
If you want to win these pieces – or a $100.00 gift certificate for Two Belles and a Bead, just leave a comment at this post. We will draw the winner on December 15th. Please remember to check back then to see if you won and check your email (including your junk mail folder). This contest is open to both Canadian and US shipping addresses.