This post may contain affiliate links. Read my disclosure policy here.
Shaunti Feldhahn has received rave reviews and informal recommendations for her book For Women Only: What You Need to Know about the Inner Lives of Men for effectively explaining how men think and how to best interact with them in a way that is mutually beneficial. In her latest book, For Parents Only Getting Inside the Head of Your Kid she has teamed up with Lisa A. Rice, associcate editor of Christian Living magazine and mother to two teens, to demystify teens in the same way.
The goal of this book is to help you understand several key things that are likely going on — on soon will be — in the inner life of your child, some inner wiring that you may have never understood before (p. 2).
The facts from this book come from the interviews, focus groups, and surveys conducted with teens on such issues as freedom, responsibility, and identity. The full survey is available online as well as the honest and emotional verbatim responses to the last question, "If you knew your parents would die tomorrow, what would you want to tell them?"
This book will be encouraging and helpful to the parent of a tween or a teen, but even parents of younger children will benefit as they look ahead to the challenges that those years will bring. This book does not employ scare tactics. In fact, the overall message is that in spite of what they say, our teens want us to parent them, not to give in to their every complaint. The teens themselves admitted that even when they balk at the rules or consequences of their own actions, that is actually what makes them feel safe and loved.
Another part that I found to be very insightful (and ties in to why they sen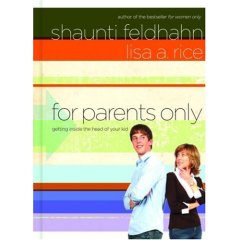 d those mix signals) is that one of the most important things for teens is their pursuit of freedom. Their behavior toward acquiring this freedom is like an addict — even when they know it might not be in their best interest, they look for it and fight for it.
Any book that reminds me in a fact-based, encouraging way to actually be the parent, gets two thumbs up from me.
Leave a comment to win one of two giveaway copies (to U.S. shipping addresses only). You can purchase the book and a companion discussion guide book at amazon.com or bookstores anywhere.
Congratulations to the winners of last week's book, A Shadow of Treason by Tricia Goyer:

#10 Laurie in TN

#31 Marie