This post may contain affiliate links. Read my disclosure policy here.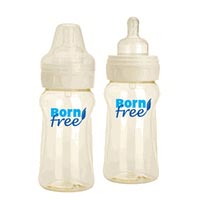 Hearing the latest news on toxic products is enough to make a mom throw her hands up in despair! As loving parents, we are all trying to do our best to protect our children and create the healthiest environment possible for them to grow up in, but lately that seems to be getting more difficult.
Personally, I want to purchase safer products – especially when it comes to items that my baby has in her mouth – but I feel overwhelmed trying to figure out what products are safe and where to find them. So naturally I was relieved to find The Soft Landing, where mom and registered nurse Alicia Voorhies, has done the research and offers a fantastic selection of safer, non-toxic feeding products, like Bisphenol-a free bottles, sippy cups and lead free bibs.
Alicia says,
While searching for safe feeding gear, I realized how limited the information was and how few options were available. What started as a growing awareness of toxic plastics, became a mission to care for my own children and newborn nephews. A highly motivated search team grew out of my concerned family members and now we work together to find the highest quality non-toxic baby care products for our children and yours.

Our passion is to help concerned parents raise healthy children in the most natural way possible. We just know you'll benefit from our research and personal experience! Whether you're looking for bisphenol-a free bottles and sippy cups or lead free bibs, we've got you covered from start to finish. Dive in and discover how making a few key changes in the products you use can give your baby the best health advantage possible.
We have been using the Born Free Baby Bottles with Olivia (my wonderful husband gives me a break in the night with a bottle of expressed breast milk) and we love the peace of mind we get knowing that the Born Free Baby Bottles and Sippy Cups are made from a safer alternative plastic called Polyamide (PA) that is free of Bisphenol-A. (Scientific studies show that even very low levels of Bisphenol-A can be harmful to babies – but incredibly many companies are still using it in their baby products! USA Today has an illuminating article on the subject.)
And not only are the Born Free Bottles safer, they have a special venting system that reduces the vacuum that happens with conventional bottles so the baby can gently suckle when feeding.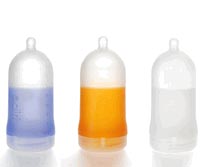 I was also intrigued by the Adiri Natural Nurser that was designed with the help of doctors, moms and lactation consultants and plan on trying it out too.
The Natural Nurser Ultimate Bottle is made from high quality 100% polycarbonate-free materials that warm to a child's cheek, like a breast, when filled with warm milk. A patented nipple design helps alleviate nipple confusion for breastfeeding babies. Shaped like a breast, they encourage the same type of open-mouthed latching that is required for breastfeeding, making bottle and breastfeeding more easily interchangeable.
That sounds fantastic to me!
Alicia is offering one BornFree Gift Set worth $44.99 and one Multi Stage set of the Adiri Natural Nurser worth $35.50 in our Christmas Giveaway.
(These bottles are so popular that they are on backorder until mid-December.)
If you want to try out the Born Free or the Adiri Natural Nurser, leave a comment here to be entered. If you have a preference about which one you would like to try, mention it in your comment. (If you are having trouble choosing, Alicia has a great post comparing the bottles on her blog.)
For detailed instructions on our Giveaway, see the Christmas Giveaway 2007 post (including the code to put our Christmas Giveaway button on your site.)
But here is the quick run through:
Leave a comment on this post to be entered.
Either post a link to this contest OR post a button linking to our Christmas Giveaway post. (If you post the button and link to the Christmas Giveaway, you are qualified to enter in all the upcoming Christmas Giveaway contests. And we have many more contests to come!) Non-bloggers are welcome too – we understand you can't link – but feel free to pass the word on to your friends.
(This giveaway is open to US shipping addresses only.)