This post may contain affiliate links. Read my disclosure policy here.
Moms know all too well that children have accidents (all kinds!) and adults sweat and breast milk leaks and dust mites thrive and children get asthma and the list goes on… As moms, these are problems that affect us.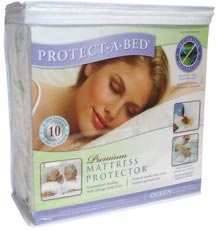 So naturally we jumped at the chance to review the Protect-A-Bed mattress covers.
Personally, I have whipped off too many sheets and mattress covers to frantically wipe a sopping wet mattress. But thankfully I'm done with that middle-of-the-night linen-changing chaos. The Protect-A-Bed mattress protectors have got my family covered. Now I don't have to worry about accidents, dust mites, and all the rest that threatens a mattress.
These are more than mattress covers — they are protectors! And mattresses definitely need to be protected.
(Tonight my son said that his stomach was hurting. With the stomach flu going around, I am fearing the worst. So I put a sheet on the carpet, and a bucket by his bed. But I am not worried about his mattress. At least that will be safe!)
If you haven't heard about Protect-A-Bed mattress protectors, here is a quick rundown:
In 1980, makers of Protect-A-Bed set out to make a mattress protector that was waterproof, healthy and allowed for a comfortable night's sleep. A greater awareness of other health aspects made it even more important to protect mattresses and pillows against dust mites, a major cause of asthma, allergies and eczema. After much expense, trial and error and research and development, the Protect-A-Bed premium bedding protectors were successfully created and are now available throughout the world.

Protect-A-Bed Product Details:

Made of 100% natural terry cotton surface, it stays cool in the summer and warm in the winter, providing a soft, quiet and comfortable sleep.
Proprietary Miracle Membrane®, a new age breathable barrier fabric, is waterproof and protects your mattress from all liquids, even sweat and urine.
Hypoallergenic, to permit a healthy and anti-allergy sleep zone.
Prevents dust mites and bacteria from breeding in a mattress, which can cause asthma, eczema and rhinitis.
Can be machine-washed and tumble-dried over 200 times without losing its effectiveness.
Trusted product that is recognized as a Class 1 Medical Device by the Food and Drug Administration (FDA).
If you haven't tried out a Protect-A-Bed before, you can head over to their site for more information.
UPDATE: It's been 12 years since we wrote this blog post. Since then we've bought many Protect-A-Bed sheets for all our families' beds. We love them! And recently we wrote a Nectar Mattress review that you'll definitely want to check out. It's an affordable way to get a super comfortable mattress.