This post may contain affiliate links. Read my disclosure policy here.
My second-born, Olivia, is one tough two year old!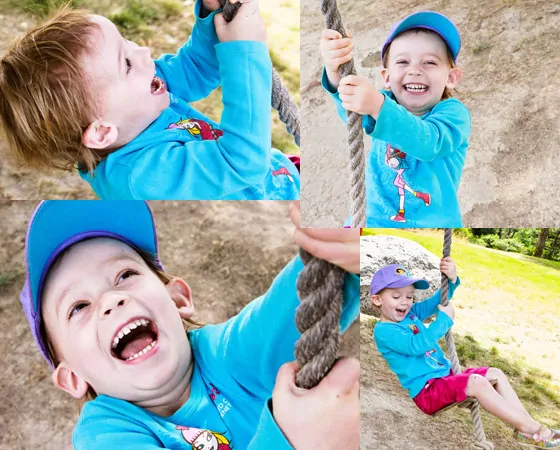 Olivia doesn't seem to get scared or intimidated by much. She LOVES action.
I think she figures, "If my brother can do it, why can't I?"
Which leads me to wonder, are many second-born children braver than their first-born siblings?

Does the fact that they are watching older siblings conquer tasks naturally lead them to try more themselves?
And does our perspective as parents change, allowing us to give our second-born children more opportunities to challenge themselves?
As a mom, one of the things I have learned most is that people are who they are from the womb. We can shape, mold, encourage, teach, etc., but the fundamental nature and personality of a child is in place long before we even meet them face to face!
So, having said that, I realize that naturally anxious or cautious children won't be hanging from tree limbs at two whether they are first, second or tenth born!
But for the average child, I think that being second born probably makes those tree limbs seem a lot more accessible.
Tell us: Do you think second-born children are braver? Why or why not? What have you noticed with your own children?
Written by Janice Croze, co-founder of 5 Minutes for Mom.
BTW, do you like us on Facebook and follow us on Twitter? We would love to chat more with you over there too!