This post may contain affiliate links. Read my disclosure policy here.
Summer Camp can be an extraordinary experience for kids… but it can also be tough to get past homesickness.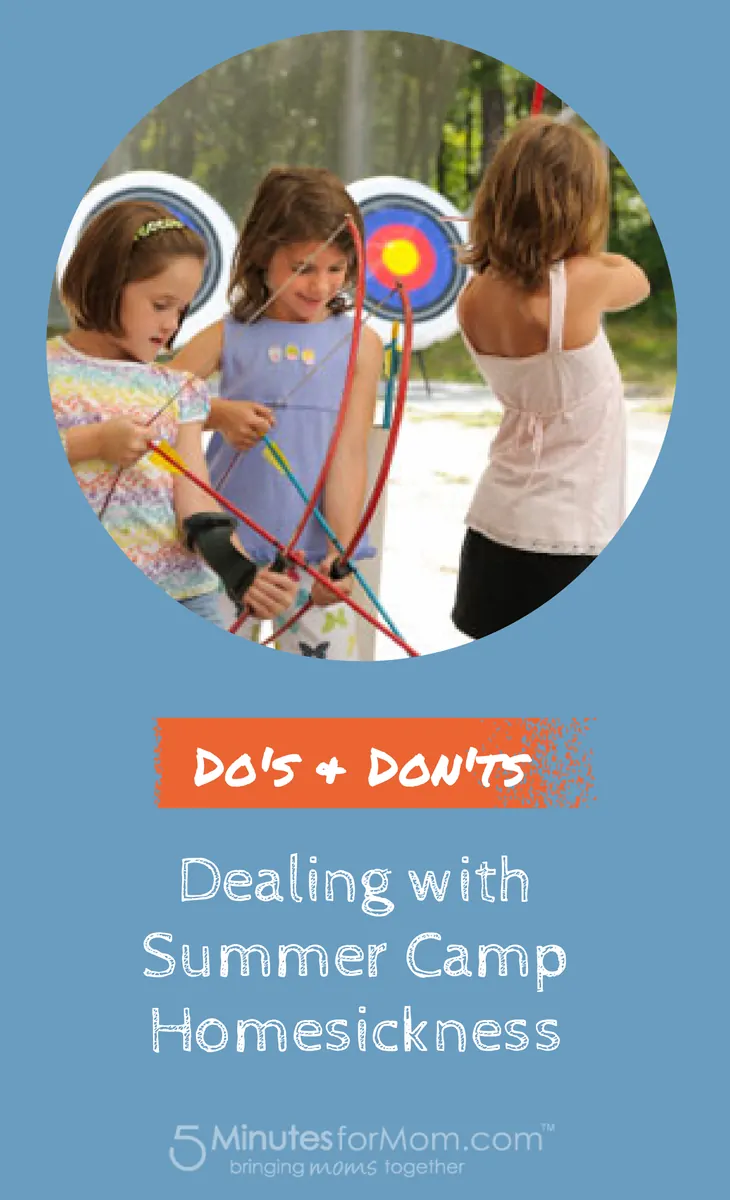 My first trip to "camp" was when I was only a few weeks old. My father was the speaker and my parents' friend flew my mom with her brand new twin babies up to the island. Yes, for our family, camp was a part of life – and we loved it!
My father was a minister and he loved to speak to youth – even long after his days of "youth ministry" were over. So, every summer my parents volunteered for a week at senior teens' Bible camp.
My dad was the camp director and my mom worked in the kitchen. My siblings and I were "worker's kids" roaming the camp, hanging out with campers and having fun. It was the highlight of our year.
As I grew older, I became a camper, then a dish crew worker, and then a counsellor.
I even met my husband at camp! And we have carried on the tradition of volunteering every summer at this same camp that has been so important to us. In fact, this summer will be my eight year old son's ninth year going to camp.
My son loves it and counts the months until July when we get on the boat and head to the island.
And he can't wait until he can attend camp on his own, as a camper at Junior Boys camp.
But, when I first attended camp without my parents it was not the fun, carefree experience I had going to camp with my family.
Homesick at Summer Camp
No, my twin sister, Susan, and I suffered from extreme separation anxiety when we were away from our mother. We couldn't even handle going to day camp without feeling sick to our stomachs.
But, since we loved camp and our older sister would be there as one of the lifeguards, we decided to try.
It did not go well…
The first night Susan and I sat up all night in the bathroom, feeling sick with sadness. We missed our mom and we were consumed with worry and homesickness. We swore that when morning came we would go to our sister and ask her to send us home.
But, when daylight came, we had so much fun we forgot about our night-time anxiety and our mission to get home. And so when the sun went down, we found ourselves still at camp, with worry rising from the pit of our stomachs.
Not many children have separation anxiety as badly as Susan and I had.
But homesickness is a concern for most children (and parents) when they pack their bags for their first time at sleep-away camp.
The Do's for Dealing with Homesickness
If your child is heading off to camp this summer, the American Camp Association® (ACA) has some useful tips:
DO encourage independence throughout the year. Practice separations, such as sleepovers at a friend's house, can simulate the camp environment.
DO involve your child in the process of choosing a camp. The more that the child owns the decision, the more comfortable the child will feel being at camp.
DO understand the camp's philosophy on how issues, like homesickness, are addressed. Talk candidly with the camp director to understand his/her perspective on your child's adjustment.
DO discuss what camp will be like before your child leaves. Consider role-playing anticipated situations, such as using a flashlight to find the bathroom.
DO reach an agreement ahead of time on calling each other. If your child's camp has a no-phone-calls policy, honor it.
DO send a note or care package ahead of time to arrive the first day of camp. Acknowledge, in a positive way, that you will miss your child. For example, you can say "I am going to miss you, but I know that you will have a good time at camp."
DO pack a personal item from home, such as a stuffed animal.
DO trust your instincts. While most incidents of homesickness will pass in a day or two, approximately 7 percent of the cases are severe. If your child is not eating or sleeping because of anxiety or depression, parents should work with the camp director and other camp staff to evaluate the situation.
DO remember that camp staff are trained to ease homesickness.
The Don'ts for Dealing with Homesickness
DON'T bribe. Linking a successful stay at camp to a material object sends the wrong message. The reward should be your child's new found confidence and independence.
DON'T plan an exit strategy. If a "rescue call" comes from the child, offer calm reassurance and put the time frame into perspective.
DON'T feel guilty about encouraging your child to stay at camp. For many children, camp is a first step toward independence and plays an important role in their growth and development.
DON'T make your child feel like a failure if their stay at camp is cut short. Focus on the positive and encourage your child to try camp again next year.
For more information on homesickness or expert advice on camp, visit www.CampParents.org.
Written by Janice Croze and originally published at Cascadian Farm.