This post may contain affiliate links. Read my disclosure policy here.
Summer is a great time to cook in the kitchen with the kiddos. It keeps them busy, everyone has a great time, and the results are delicious. But with hot summer days, sometimes the LAST thing you want to use in your home is the oven. That is why Rice Krispies Treats® marshmallow squares are perfect. You can get together in the kitchen, make a scrumptious snack, and never once turn on your oven.
It also allows the younger members of your household to lend a hand and help you prepare something yummy to eat.
Rice Krispies® Frozen Banana Treats™ are easy-to-make goodies that can also help you cool down on a hot summer day.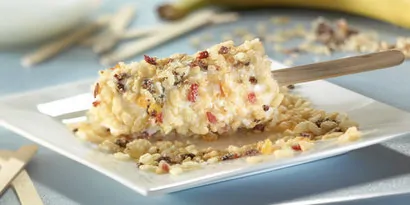 So corral your children into the kitchen and grab the following ingredients:
4 medium bananas, peeled and halved horizontally
2 1/2 cups Kellogg's® Rice Krispies® cereal
1/2 cup coarsely chopped dried fruits or flaked coconut
1 package (16 oz.) vanilla-flavored candy coating or vanilla-almond bark
8 ice cream sticks

Are you ready to make some Rice Krispies® Frozen Banana Treats™? Here are the directions (which can also be found on RiceKrispies.com):
Place banana pieces on foil-lined baking sheet. Then cover with plastic wrap. Freeze until needed. 
In shallow dish combine KELLOGG'S RICE KRISPIES cereal and fruit. Set aside.


In small saucepan melt candy coating according to package directions. Remove from heat. Pour into another shallow dish. (Adults, please assist your children with this step.)


Remove bananas from freezer and insert an ice-cream stick into cut end of each banana piece.
Dip banana halves into melted candy coating, letting excess drip off. Roll in cereal mixture until evenly coated.
Return to baking sheet. Freeze for 15 minutes. Transfer to airtight container.
Freeze for 2 hours to 1 week. Let stand at room temperature for 10 minutes before serving.


Kid-friendly Kitchen Tips:
Here are a few ways that your children can get involved in helping you in the kitchen! (And of course, while having fun in the kitchen together, children of all ages should have an adult assistant with them at all times when cooking.)


The youngest chefs, 3 to 6 years old, will be very good at inserting the ice cream stick into the banana halves and they will love to crush the Kellogg's Rice Krispies cereal.

Older chefs, ages 7 to 9, can use a table knife to cut the banana in half and they will enjoy "dipping" the bananas into the melted candy coating too.

Kids, older than 9 years, may stir the candy coating on the cook top or help prepare it for the microwave and may also help read directions to the younger kids.
You can find even more recipes at RiceKrispies.com. If you haven't already, be sure to enter your child's drawing or recipe into our Ultimate Summertime Rice Krispies Treats™ Challenge. We have some great Rice Krispies Treats™ prize packs to give away!! Don't forget entering is as easy as telling us in the comments section what ingredients your child would use to make his/her ideal Rice Krispies Treat.
Also, Rice Krispies just launched their Facebook book page, so make sure to check out www.Facebook.com/RiceKrispies and "like" them!
Disclosure: This is part of a paid campaign sponsored by Rice Krispies® cereal.