This post may contain affiliate links. Read my disclosure policy here.
With a huge variety of your children's favorite characters, With Character Kids is the place to find kids bedding, room decor and more that will thrill your kids. Not to mention, you can also find items like diaper bags that you will love too – all at great prices.
As Janice and I browsed through their website we were impressed with their fun product lines. And a couple of key items jumped off the page shouting must-have!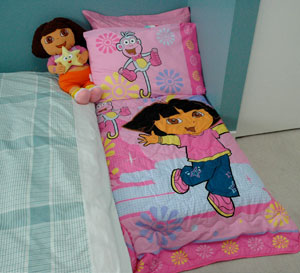 First we found this oh-so-cute Dora bedding and we knew it would be the perfect aid to help transition Julia from co-sleeping to her own big girl bed.
And we were right. Julia absolutely LOVES it!!!
We also got the Dora cuddle pillow and the soft and cozy Dora blanket for an extra blanket to snuggle under.
Since Julia is such a fan of Dora, this bedding is the perfect way to help her get excited about sleeping on her own bed — even if that bed is still just a mattress next to Mommy and Daddy's mattress.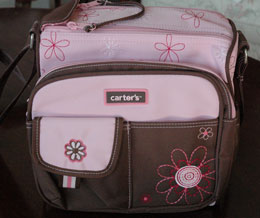 And look – it matches! Janice saw this fun Carter's Diaper bag that reminded her of the new design here at 5 Minutes for Mom. Isn't it fabulous? It looks like we copied our site design from it! LOL
With Character Kids keeps their prices low so you can be confident when shopping that you don't need to hunt around cyberspace to ensure you're getting a fair price.
Take a few minutes to browse around their site and see what catches your eye… Because two lucky winners that comment here will each win a $50 gift certificate to pick out whatever their (or their kids') hearts desire at With Character Kids.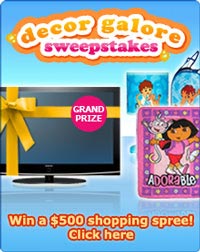 Also, they are having a HUGE Decor Galore Sweepstakes where they're giving away a 50″ HDTV to one lucky winner and up to five $500 shopping sprees. (It kinda' steals the thunder of our giveaway, hey? LOL)
But the great news is you can enter their giveaway for tons of loot and still enter here with just a comment and get your name in the draw for one of two $50 gift certificates. So your odds are pretty darn good!
But hurry up… their sweepstakes entry deadline is Sept 12th!
We'll draw our two winners on Friday Sept 21st. (Sorry Canadians… only US shipping addresses this time… but if you live close to a US border, you could ship to a UPS location and cross the border to pick up your items or ship to a friend or family member who lives in the states.)
Update: The winners are…
#95 – ktjrdn from Life, the Universe, and Everything
#178 – Erin