This post may contain affiliate links. Read my disclosure policy here.
In an ideal world, every mother would have an unlimited amount of time to snuggle, feed and play with each of her babies and children.
But… let's be honest… sometimes the spaghetti is boiling over, your baby is crying, your toddler is finger painting the fridge and your grade schooler needs help with her math homework. An extra hand would be a big help.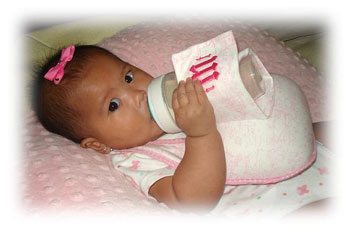 Great news… the Bottle Snuggly is here to help!
This adorable invention lets you feed your baby hands-free so that you can use both your hands to juggle the rest of your kitchen chaos. And dinner time can run a little more smoothly.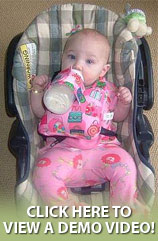 Now of course neither we nor the inventors are suggesting the Bottle Snuggly replace breastfeeding or cuddling with your baby while bottle-feeding. There's nothing more important than closeness with your baby. But when life is a bit chaotic, the Bottle Snuggly is here to lend you a much needed hand.
Each Bottle Snuggly is lovingly hand-crafted with quality materials. You can choose from a beautiful assortment of colors and fabrics.
Lil'Angel Couture has generously offered to send six of you a Bottle Snuggly of your own. We will randomly select 6 winners and each of you will be sent a unisex color/style Snuggly.
If you (or a friend of yours) could use the extra hand of a Bottle Snuggly, just leave a comment and let us know. We'll draw the lucky 6 on Sunday, September 2nd. (US Shipping addresses only this time.)
Or if you can't wait, jump over to Lil'Angel Couture and pick one up now.
Update: The winners are:
#39 – Celeste
#54 – Shannon from Little Miss Miracle
#66 – Nichole
#36 – Alexia from The Mommy Rambles
#22 – Carey from Sunny Days at the Beach
#67 – Tessa from Striving To Be Better