This post may contain affiliate links. Read my disclosure policy here.

Jackson's Room
Determination, persistence…ok …procrastination.

At after 10pm, I valiantly began to tackle my project. And while I patted my back about my commitment to my blogging project, I had to chuckle about my knack for procrastination.

Yes, today got away from me – that tends to happen often with me – and I didn't get to my tackle project until 10pm. The only problem was my project for the week was my son's room! I had already taken the before pictures, but hadn't gotten to the tackling yet.

So, I waited until he was soundly asleep, and I had finished visiting some blogs, and I crept into his room and began cleaning. He barely moved as I tackled his room for more than an hour. I must say it worked out quite nicely. I didn't have him playing with toys as I tried to put them away and destroying my "work of art." (There will be time enough for that tomorrow – but at least I have the pictures to prove it was clean!)

So here are my before pictures:
Jackson's Room – Before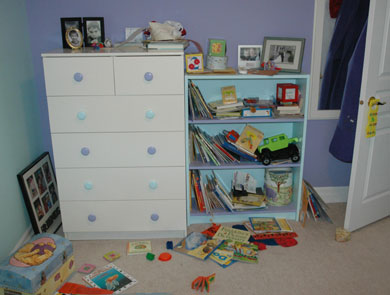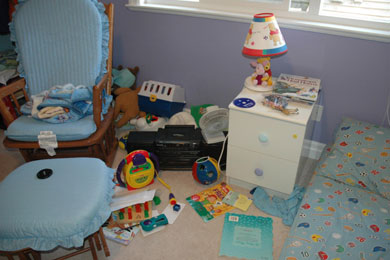 And here it is after: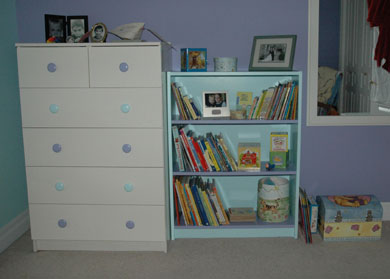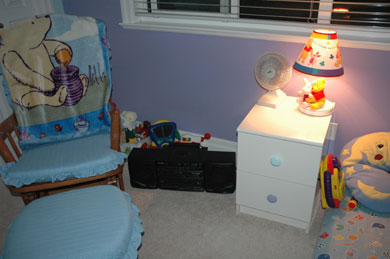 And Jackson slept through it all: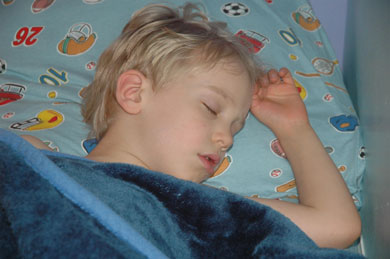 Note: If you are wondering why I haven't updated the room to a more boy-friendly, four year old theme, we had hoped to have our baby that was due in early June moved in here and have Jackson in his new room. We have all the hockey decor ready to go and we were about to start turning the office into Jackson's big boy room last fall. Unfortunately, we lost our baby and decided to keep Jackson in the nursery room for the time being. We are still hopeful that we will need a nursery soon, so I haven't wanted to repaint and redecorate only to turn it back into a nursery. But Jackson has been complaining lately about his room being babyish, so we will see what happens.
Join Us For Tackle It Tuesday

Each week on Tuesday, we are posting before and after pictures of a project or trouble area that we tackled this week.

I will link to any of you who are also playing along, so add a comment and/or email me. Find out more about Tackle It Tuesday here.

The project can be little or big – whatever you want. Basically, Tackle It Tuesday is about giving ourselves incentive, deadlines and satisfaction in getting our household tasks done.
Have fun checking out what projects our fearless Tackle It Tuesday regulars tackled this week:
Courtney – Waiting On My Soldier
Michelle – Between diapers and dishes
EmilyRoseJewel's Personally Blessed Life
If you tackled a project this week, just add a comment and add your link below.