This post may contain affiliate links. Read my disclosure policy here.
When my husband asks me what I want for Mother's Day, my instant reaction is "DAY AT THE SPA!" Then I stop and think about it a little more. While a trip to the spa sounds absolutely spectacular, I quickly realize that "a day at the spa" also means that I either must give up a Saturday at home with my husband or I need to find a babysitter for my girls (which is not as easy as it sounds). My relaxing spa day has now turned into more work and scheduling for me.
If you fall into the same predicament, then you are going to love this amazing Mother's Day gift from A&E Home Entertainment! Even though you might not be able to head off to the spa this Mother's Day, there is no reason why you can't have that same relaxation and pampering at home!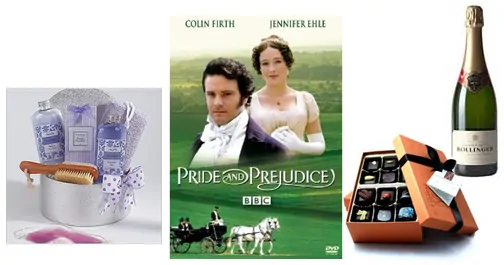 This ultimate, self-indulgent Mother's Day gift includes:
Pride and Prejudice on dvd — The Emmy Award winning miniseries starring Colin Firth has been beautifully remastered and is being released on DVD this month. This A&E Home Entertainment release features unprecedented visual quality and new bonus pieces. Whether this is your first time being introduced to the world of Mr. Darcy and Elizabeth Bennet or it's been one of your long time favorites, you are going to love this film adaptation of the Jane Austin classic!

$50 gift certificate to Wine.com

$50 gift certificate to Chocolate.com

A "Luxury Lavender" Spa Gift Box from SpaFinder.com
Doesn't that sound absolutely amazing? Put the kids to bed and indulge yourself in lavender, chocolate, wine, and Colin Firth as the heartbreaking Mr. Darcy! No need for a babysitter!!! The best part is that you can keep it all to yourself or you can share with your husband or invite a girlfriend over and make it a girls night in! Did I mention the chocolate? And the wine? And Colin Firth? Just checking!!!
To win this amazing Mother's Day gift pack valued at $170, simply leave us a comment below!
This giveaway is part of our Mother's Day Giveaway and is open to US addresses. You have until May 14th to enter. We will announce our winner on Saturday, May 15th.
Please review our Mother's Day Giveaway information and our site's Terms and Conditions of Use for a complete lift of our contest and giveaway rules.
Once again…chocolate, wine, pampering, and Mr. Darcy! Just making sure you were all paying attention!!!
We did not receive any compensation for this post. However, A&E Home Entertainment is providing us with the prizes for this giveaway, including all gift certificates and the spa gift box. If any of the prizes mentioned in this post become unavailable before the winner is chosen, A&E Home Entertainment will substitute a comparable prize of the same value.