This post may contain affiliate links. Read my disclosure policy here.
Turning the old office into Jackson's new room
Oh ladies – this is a mess! We are trying to convert the office space upstairs into Jackson's new bedroom. We haven't been actively using it since we moved the home office for the business to Susan's house and I work primarily at our kitchen table, so we decided to turn it into a bedroom. A five year old boy and a newborn girl might not be the best roommates! The problem is that although we don't do much work in the office, it holds a ton of papers, files, etc that all need to be sorted and moved or thrown out.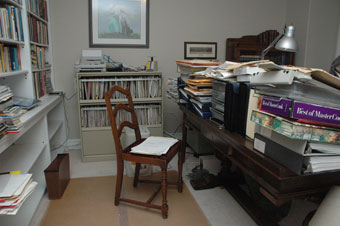 It is a huge task and I just can't seem to get a good block of time to tackle it. I am trying, but as you can see from the photo – I have a ton to still do! I need to sort all that stuff on the desk, we need to move all the furniture (and sell most of it because we no longer have room for it) and we have to move the filing cabinet to the basement. I am also going through the filing cabinet, getting rid of old stuff.
Then, we still need to buy furniture, get the new room put together and move all Jackson's stuff over.
The depressing thing is that I don't have time for any of it! AND that is not the only tackle we need to do before the baby comes – the house is full of tackles.
But I can't sit here and complain – I just have to get it done! So this week, when I can find some moments, I will be working on this tackle and some of the many other tackles in my house.
What are you tackling? Link up and let us know.
Join Us For Tackle It Tuesday
We're making housework blog-able!
Each week on Tuesday, we are posting before and after pictures of a project or trouble area that we tackled this week.
Find out more about Tackle It Tuesday here.
The project can be little or big – whatever you want. Basically, Tackle It Tuesday is about giving ourselves incentive, deadlines and satisfaction in getting our household tasks done. (It doesn't even have to be housework… just whatever is on your To Do list.)