This post may contain affiliate links. Read my disclosure policy here.
This review is authored by Janice of 5 Minutes for Mom.
This is the second of two reviews today. Click here for the first one, posted by Jennifer.
Get Your Kids Ready for School…
If you have little ones getting ready for either Kindergarten or First Grade,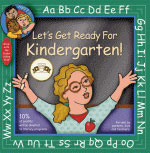 you will love these two fabulous books by Cedar Valley Publishing – "Let's Get Ready for Kindergarten" and "Let's Get Ready for First Grade."
Jackson has a few different Kindergarten prep books that I have purchased over the last year, but these books are our favorite! They are short and not too overwhelming, but they cover all the basics your kids need – and even include parent/caregiver tips to help us prepare our kids for school.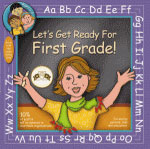 The books are sturdy and made to use with Dry Erase Markers so your kids can practice in them over and over and you can use them for more than one of your children. (My son loves the dry erase marker feature – it makes completing the exercises more of a game to him and he just loves to use them!) These bright and colorful books will make getting ready for September fun for you and your kids.
Behind Cedar Valley Publishing are two stay-at-home moms – Stacey Kannenberg and Linda Desimowich – who wanted to help get their own kids ready for school. So in 2004, they set out to help parents get involved in the educational process for their kids.
"Let's Get Ready For Kindergarten!" and "Let's Get Ready For First Grade!" are both award winning books receiving national acclaim with winning the Voted 2006 Best Educational Book of the Year Award by the AWA, a Silver Addy for illustrations from the American Advertising Awards and was selected by Orca Communications as one of the top new products for kids in their Fall/Spring Media's Best Guide. "Let's Get Ready For First Grade" is the winner of the 2007 Teacher's Choice Award for the Family.
Award winning author Stacey Kannenberg says, "I believe parents are responsible for getting their kids ready for that first day of school! It's not just knowing your name, address, phone number, and tying your shoes, it's about taking an active role in learning. These books are helping parents get involved in education at the core!! Never fear, it's never to late to start. These books are working inside homes and schools across the nation."
And a great bonus – 10% of all profits are donated to literacy programs!
The publishers are giving us one copy of each book to give away. So if you have a child entering Kindergarten or First Grade (or you are homeschooling these grades) and you would like a chance to win a copy, let us know in the comments. Make sure you let us know which book your child needs. We will have two winners – one book per winner.
Edited to add: This contest is open to both Canadian and US shipping addresses.