This post may contain affiliate links. Read my disclosure policy here.
Yes, we got a makeover!
What do you think of our new look?
We're really excited to finally have a new design here at "5 Minutes for Mom". For quite a while now, we've been meaning to change our dear blog's look and feel, but we've been so busy running the site, we didn't have time to change its clothes.
So… finally we decided to just go for it.
There are so many fantastic blog designers available these days, and when we asked for your referrals, we had so many to choose from that it was hard to decide.
Finally we selected a work-at-home mom named Avie whose company is called Fritzer Designs.

And we can definitely tell you that Avie is the most patient woman in the entire world!!!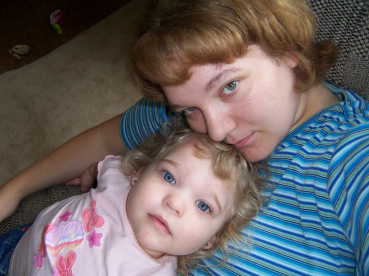 Working with us on a design is no easy task. We are terribly picky and we never really know what we want. But Avie was such a joy to work with and she persevered through all our requests to try this and that.
She's also created for us a set of new buttons that you can choose from if you want to change the button you use to link to us. (You don't have to switch to the new button from the old… it's just an option.)
And if you have a store or website listed with us where we've given you an award, we have a new set of award images that you can choose from. (For the award images, please contact us. Also, please note that we don't give out awards to personal blogs, just stores and websites.)
If you'd like to change the button that you currently have on your blog linking back to us, you can now use one of these.
Just pick a button and copy the code below it.
Thanks again to Avie for her great work and undying patience!
We are thrilled with the Avie's work and we whole heartedly recommend Fritzer Designs for your next design project.