This post may contain affiliate links. Read my disclosure policy here.
My husband and I agreed on one name: Jackson.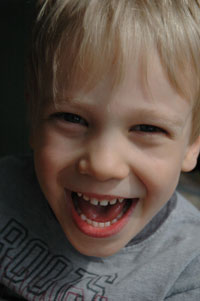 We had it picked out years before we even got pregnant. And after I found out I was carrying a boy, I called Jackson by name throughout my pregnancy.
I adore the name Jackson.
Now let's get this clear.
I do not adore the name Jack. Don't get me wrong – Jack is a good name. So please do not be insulted if that is your child's name.
I still like it. I just don't adore it.
But my son disagrees. He is obsessed with being called Jack. I am not sure why. Maybe it is because the monkey that plays hockey is named Jack (a movie he has watched far too many times.) Or maybe it is part of God's plan to make me relinquish control over my son.
I am not sure. But I do know I am not giving up yet. I insist on calling him Jackson and thus, at this point, everyone still refers to him as Jackson.
So my son is taking this to a higher power. He is going straight to God! The little monkey – he is going over my head.
A week ago, standing in our kitchen, he announced to me, "My name is Jack. God named me Jack and God knows best." I was so stunned – I have no idea what I said back. But, I went right on calling him Jackson.
So last night as we said his night-time prayers together, he prayed, "Dear God, please change my name to Jack and I never want to be Jackson again."
Ok – I couldn't decide whether to giggle or give in. It was so cute and yet quite concerning. He is getting serious with this request.
(Oh – another note: When Jackson first brought up this name concern a couple months ago, he said that he wanted to leave out the "sin" in his name and just be Jack because "sin" is bad. I quickly explained the difference between "sin" and the "son" in his name. He seemed ok with that explanation, but continues to push for the abbreviation.)
So what do you think? Is this just a stage? Is he just trying to test me and win? I really don't want to give in and change his name. As I said, I adore the name Jackson.
Now of course I adore my son more than the name, so if he decides to be Jack I will be ok. But he is four years old and loves testing boundaries. I just don't think giving in at this stage is the right thing to do.
Tell me what you think…