This post may contain affiliate links. Read my disclosure policy here.
I love Disney movies, always have. Growing up I had many of them on VHS. It wasn't until I had my first child, that I really desired to begin a Disney DVD collection. I still remember the first Disney DVD I purchased. My daughter, Audrey, was 18 months old at the time and Bambi was released from the vault. I had pre-ordered it and everything. There was a skip in my step, when I headed to Toys "R" Us on my lunch break to pick up my copy.
That is why I am always excited when we are offered the opportunity to do giveaways at 5 Minutes for Mom for the newest Disney releases. It thrills me to give one or more of you a chance to receive another addition to your Disney DVD collection.
Next week, The Princess And The Frog releases on DVD and we of course have copies just for you.
I had yet to see The Princess And The Frog, and my daughter, who is now 6, was counting down the days until we could go buy the newest princess movie. She was beyond ecstatic when a review copy came our way, before it was even available in the stores.
We popped some popcorn and sat down in anticipation as The Princess And The Frog started. I wish I could go on and on about how much I loved it, but really I am a bit torn. The movie started off so lighthearted and fun. It has such an adorable intro. I also love that one of the main messages of the movie is that you have to work hard to make your dreams a reality.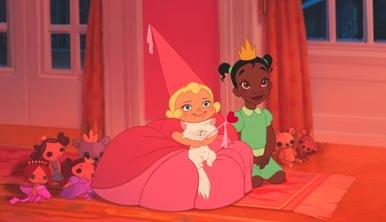 But then the movie took a turn for the worse. The movie's villain practices Voodoo, and his evil works and plots with evil spirits take up a huge chunk of the film. It gets pretty scary and demonic, in my opinion. I almost turned it off, but since I was reviewing it for this post, I kept it going. I will definitely not let my boys, who are four and two, watch this movie yet. I guess I was a little taken aback by the amount of evilness in a Disney movie.
If you saw The Princess And The Frog in the theaters, I would love to hear what you and your children thought about the movie.
If your children are counting down the days until Princess And The Frog releases, March 16th, then this is definitely the giveaway for you. We have 2 combo packs to give away. The combo pack includes a Blu-Ray, DVD and Digital copy and retails for $44.99.
Tiana, the ninth and newest enchanting addition to the legendary lineage of Disney Princesses, makes her home entertainment debut in a rollicking Big Easy-style fairy tale when The Princess and the Frog arrives on Blu-ray Combo Pack and DVD on March 16, 2010 from Walt Disney Studios Home Entertainment.

A timeless heroine in the tradition of Snow White, Ariel, Jasmine and the rest of the beloved royal sisterhood, Tiana comes to life with classic hand-drawn Disney animation from the revered team of John Musker and Ron Clements (Aladdin, The Little Mermaid) and a jazz-infused musical score from Academy Award® winning composer Randy Newman (Best Original Song, Monsters, Inc., 2001).

A royal procession of exclusive bonus features, including games and specially- created featurettes, take viewers on a once-in-a-lifetime tour of the storied French Quarter of New Orleans and into the magic-steeped bayou for hours of
can't-miss family entertainment.
To enter, please leave a comment below. As always you can earn additional entries:
Spread the word to your friends via your blog, twitter, etc.
**NEW** Start or Reply to any video conversation at Say It Face To Face. Then leave a comment with the link to the conversation on Say It Face To Face. Your video conversation or reply can be about ANY topic.
If you are already subscribed and are on our newsletter list, you qualify for those two additional entries. Go ahead and leave your additional comments below.
This giveaway closes on March 26th, is open to US and Canadian residents and is void where prohibited. Please see our site's terms and conditions of use.

Our two winners will be announced on Saturday, March 27th.
I was sent one The Princess And The Frog combo pack to review. Two additional copies are being provided for this giveaway.