This post may contain affiliate links. Read my disclosure policy here.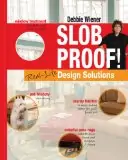 I have a dog, two kids, a husband — and well, me. Yes, I'm a bit of a slob. I want my home to be nice and inviting, but I've never gone for the stuff high-class look that some designers seem so fond of. It just doesn't seem practical. Did I mention that I have two kids and a dog and lots of stuff, and I don't have time to walk around after them with a broom and feather duster 24 hours a day?
Debbie Wiener is a designer who gets moms or any of us who want to combine form with practicality and long-lasting good looks that won't take a professional cleaning service to keep it looking nice. She focuses on form and function. Her design plans make a home not only more beautiful, but more livable (including a few creative uses of remote controls!).
Are you with me? If so, I can highly recommend her book Slob Proof! Real-Life Design Solutions.
Slob Proof! is a to-the-point resource for people who want to live in their homes, not just look at them. Some people like to be able to put their feet up on the sofa, to wear their shoes in their house, and to enjoy pets (and children and grandchildren!).
Debbie Wiener is on your side.
She explains why color and pattern are your friends, and even recommends some specific brands and products. I would have liked to see more of this, perhaps, and what I was really hoping for was some organizational or storage information. I know it's not an organizing book, but the fact is that for most of us our rooms and furniture are not showcases, but areas that house work-stations, hold books and games and toys etc.
But if you are redoing any of your rooms — floors, walls or furniture — as we have been doing gradually, I can highly recommend this book to you.
And the good news is that one of you can win your own copy of the book (open to U.S. and Canadian residents).
Just leave a comment here to win, and we'll announce the winner in next week's book review column right here.
Want to find out more about Debbie's Slobproof way of decorating?
Her website: http://mydesigningsolutions.com/
Her blog: http://debbiewiener.com/
Her furniture line: http://slobproof.com/
Her facebook: Debbie Wiener
Her Twitter: @debbiewiener
The winners of last week's book I am Nujood, Age 10 and Divorced are #4 Stephanie Meyers, #128 Chrysa, #25 Kim
Disclosure: I received a copy of the book for review purposes
Written by book blogger Jennifer Donovan, who blogs at Snapshot and manages 5 Minutes for Books, which is one reason her house is a mess!