This post may contain affiliate links. Read my disclosure policy here.
"It is ok to fail. If you fall – I have got you." That's the message we all need to hear from when we're toddlers taking our first steps, all the way through adolescence, and even throughout our adult lives. The myth of independence tells us we need to "grow up" and rely on ourselves to succeed. But it's a lie. Humanity thrives in community.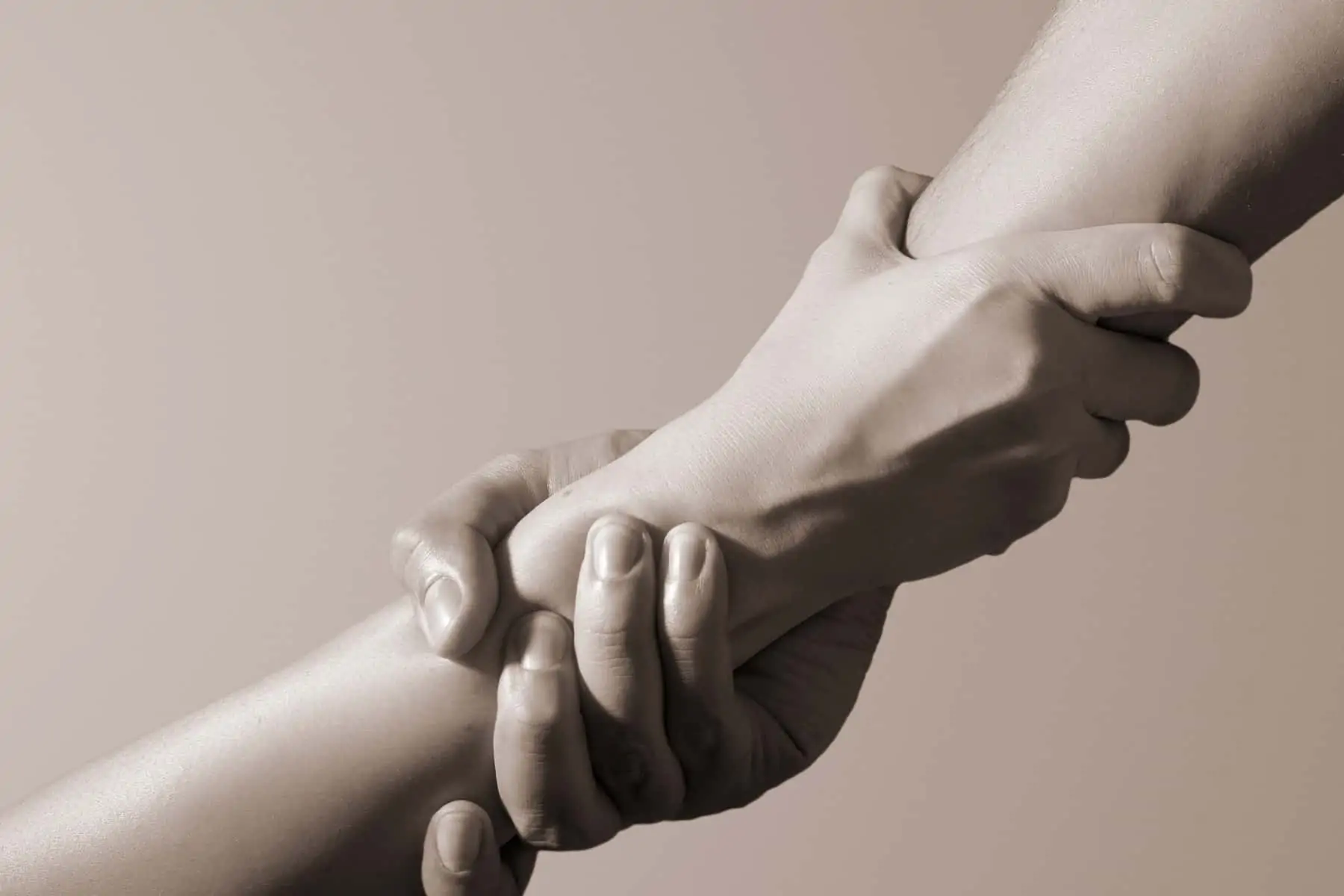 Failing does not make you a failure. Needing help does not mean you are incapable.
It means you are human. And no human can survive alone.
The Terror of Trying
The fear of failing can be paralyzing – straight up, unable-to-move-or-breathe paralyzing. That fear can be so overwhelming that it feels more terrifying than the fear of giving up before you even try.
"If I don't take that step, at least I won't fall. I may die, but at least I didn't try and fail."
That thought process may sound crazy to some people. Shouldn't we live by the mantra, "At least you tried"?
But in that moment, when the fear of failure looms and you cannot bear the thought of disappointing yourself and the people around you, there is nothing worse. Failure is the ultimate fear.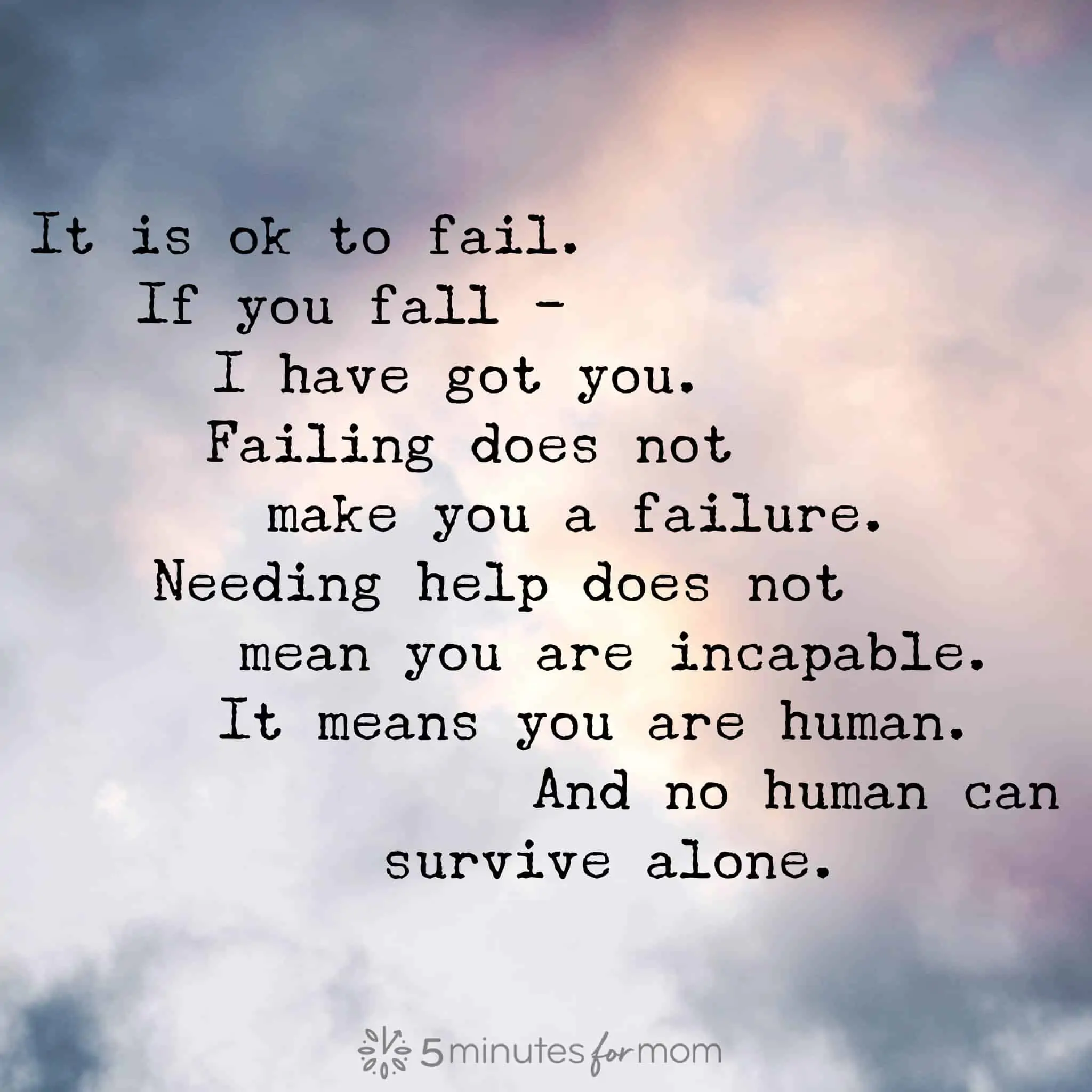 "I have got you."
We are supposed to stand on our own two feet, right? We are supposed to be independent. We are supposed to do it on our own.
But the truth is: we all need a safety net to catch us if we fall.
The lie or illusion of independence comes from people who have a safety net and don't realize their advantage.
Perhaps they were able to build that safety net themselves. So they continue the false narrative that everyone needs to stand on their own two feet and that independence is possible for everyone.
But independence is a myth.
People need help sometimes. Especially those who are sick or injured, they can't stand alone. They need support. They need arms to collapse into. And they need to know that dependence does not mean they are "failures".
We are meant to have families and communities we can fall back on, no matter our age or stage of life.
But not everyone has that unconditional support or resources to sustain them.
The problem isn't the person who is falling, who needs arms to catch them. The problem is that no one is there with outstretched arms. No one is there to hold them up without judgment or condemnation.
Unconditional support is a privilege. And those who don't have it are cruelly disadvantaged.
In a perfect world, no one would face life alone.
The antidote to the fear of failure is the community that will still embrace you and love you even if you do fail.
The Lottery of Life
At any point in life, tragedy or trauma can hit and a person needs help.
Illness, poverty, loneliness, addiction… It can happen at any age. It can happen to anyone. And it might never end.
You might never have a chance to stand alone again. You might always need those arms holding you up.
So what happens if you don't have that unconditional support? What happens if no one is there when you need help or if you are met with impatience, intolerance, or judgment?
You are left alone. To fall. To fail. To give up. To die.
Some people are able to pull themselves up on their own. They might be able to keep going. They might be able to survive and build their own safety net in case they fall again.
And when they do, it tends to continue the narrative that people need to be able to "pull themselves up by their own bootstraps."
But those success stories are the exception, not the rule. Because humans need help; we need each other. We need families and communities to help when members are sick or lost or hurting. We need people to give us a chance, to offer us opportunities.
And that need should not be shamed. Because, ultimately, it is luck that delivers privilege. It is life's lottery. It is fundamentally unfair.
Life can offer a string of advantages – wealth, power, good health, opportunity, intelligence, talent, family support, and more.
There are the haves and the have-nots.
When Oprah Got it Wrong
In Oprah's powerful new documentary, "The Me You Can't See," she and Prince Harry delve into the topic of mental health and share openly about their own struggles while hosting revealing conversations with other people who are living with mental illness.
It is an incredible, important show that is one more vital step towards understanding and destigmatizing mental illness. If you haven't watched it yet, I highly recommend it.
During the second episode, Oprah acknowledges how hard it was for her to fully grasp the devastation of depression. Having not lived through depression herself, she was shocked when a growing number of girls from her school in South Africa became suicidal when they came to America to attend college.
"I thought I could talk it away, spend time," Oprah explains to Prince Harry, "And that is when I started to understand […] there's something I'm missing. I didn't, in the beginning, even understand. 'What do you mean, you're depressed?'[…] coming from someone who had done lots of shows about depression."
This second episode in the documentary also features a young woman named Alex, one of Oprah's mentees who is struggling to survive depression and PTSD.
Alex was a homeless teenager from an abusive, dysfunctional home when Oprah met her. Over the past sixteen years, Oprah has tried to provide support and opportunities for Alex to thrive. But despite Oprah's love and assistance, Alex continues to struggle.
Oprah is dismayed. She had seen herself in this girl. So, why can't Alex take these incredible opportunities she has offered her and succeed as Oprah has?
In one scene, Oprah has a meeting with Alex a week before Alex is scheduled to leave the psychiatric center where she is receiving treatment for her depression and PTSD. The meeting is brief and happens over the computer.
Oprah asks Alex what her plans are after she leaves the treatment center the next week. Where will she live and does she have a job set up? They are innocuous and reasonable questions.
But Alex doesn't have the answers. She does not yet have a job or a place to live lined up and Oprah is clearly stunned. (Personally, I was also confused why the treatment center wouldn't have been working with Alex to have those plans in place before she transitions out of treatment.)
Oprah responds in a voice that isn't unkind, but she is frank and frustrated, "You've got to be able to figure out how you're going to take care of yourself."
Oprah's approach is logical, as if she were in a meeting with her staff, planning out a project. I am sure she didn't mean to sound harsh or unfeeling.
But as I watched, I cringed.
Her words trigger Alex and she crumbles into tears, "You don't think I've been taking care of myself my whole life? I know that. I just need to learn to take care of myself after treatment now."
My heart breaks for this young woman. It was "having to take care of herself" that had her lost and homeless as a child. The fact is she can't do it on her own. She is still living with depression and trauma. She feels she can't live up to the hopes Oprah had for her. She knows she is disappointing her and she is destroyed.
I am impressed that Oprah left that conversation in the documentary. She doesn't hide the conflict and the hurt. It is important to include because their relationship reflects how difficult it is for those who don't struggle with mental illness to try to empathize and have patience with those who do.
"I've made mistakes," Oprah admits, "I recognize that my expectation was faulted. I wasn't taking into account the mental illness at all. My journey with Alex caused me to look at mental health in a very different way than I had approached it before."
Oprah is an amazing success story. She was able to build an empire despite her tragic, disadvantaged childhood.
She was abused and discarded. But inside of her was a powerful spirit with talent, determination, and invincible energy. She didn't give up. She became one of the greatest success stories ever imagined.
And in doing so, she was able to build herself the biggest safety net of wealth and connections. Now, she is safe.
To Oprah, depression and weakness are unfathomable. Oprah can't relate because she has such a reservoir of strength, talent, and determination inside her. She is not mentally ill.
To someone who is battling mental illness or catastrophic injury or life-altering illness, the fear of failing and being all alone is too much.
Without some sort of a safety net, an unconditional support system, the reality of their limitations will swallow them up.
Sickness doesn't always end.
Panic attacks
keep coming. Mental illness does not disappear. Injuries do not always heal. How does the
chronically sick person
survive?
They can't do it on their own. It is impossible.
Unless they were gifted a safety net or they were given the opportunities to build one before their sickness overwhelmed them, the person is doomed.
Dr. Bruce Perry, Senior Fellow at the ChildTrauma Academy and one of the advisory experts for the documentary, explains, "Therapeutic change isn't about therapy. It's never about, 'I got the right medication.'… It is invariably all about relationship. There was this person. There was a teacher. A coach. A family member. It's about feeling like you belong, feeling like you are connected."
A Broken Worldview
Today, I was looking at my niece's grade ten math homeschool curriculum. The instructor highlighted the differences between the western worldview and the indigenous worldview, noting differences such as our relationship to the land and natural resources, our view of life as linear versus cyclical, and our different approaches to success and wealth.
For the western society, people look to individual wealth and success for comfort, happiness, and fulfillment, whereas for the indigenous society, wealth and success were shared by the community and it was relationships and connections that delivered comfort and security.
While this is a simplistic snippet about complex cultural and economic issues, the fact remains that in our society the breakdown of community and family connections leads to many personal and societal devastations, such as homelessness, poverty, child abuse, and drug and alcohol addiction.
We are pack animals – even gang life erupts from desperation for protection and community.
We have slimmed down our households into the "nuclear family" and forced impossible expectations and responsibilities on parents, especially single mothers.
We know "it takes a village" but most of us are just doing our best to look after our own families. Those who are alone and suffering are beyond the perimeters of our own tiny support systems.
So, what happens to those who are trapped in dysfunctional and abusive families or those who are rejected and thrown out of their families?
Whose responsibility is it to help the helpless?
Jesus implored his followers to look after the "orphans and the widows" — but what does that look like and how do we look after others when we can barely look after ourselves?
Government can offer some solutions and assistance but how can we have a paradigm shift in the American worldview of "every man/family for themselves"?
Perhaps we can work to change attitudes within the education system? We can work harder to teach children the value of community and the importance of helping each other.
Perhaps our storytellers and our entertainers can help us see the pitfalls of our self-led lives and inspire us to live with hearts and arms open, ready to help others.
Perhaps we need to change our mindset of collecting all the wealth we can before we die to a cyclical view of life, giving and receiving, sharing with others in our seasons of plenty.
Ultimately, we need to destroy the myth that "we can do it on our own."
We need to recognize the value of relationships and connections and the advantages they offer.
We need to stop shaming those with needs, whether physical, mental, emotional, or financial.
And we need to reach out to those around us and let them know that we are there for them — they don't need to give up.
We will catch them if they fall.
Reach Out For Help
If you're struggling, please tell someone. If the first person you reach out to cannot help, don't give up. Talk to another person you can trust.
You might want to take a look at some of the ways I try to cope with my depression and anxiety and see if those ideas might help you too.
You can also call a helpline to talk to someone at any time of day.
Visit TheMeYouCantSee.info for a crisis/suicide helpline number in your country.
If you are suicidal, please call a suicide crisis line or go to your local emergency room. If you can't get to a hospital, please call 911.
Please remember, you do not have to "do it on your own."
Pin it for Later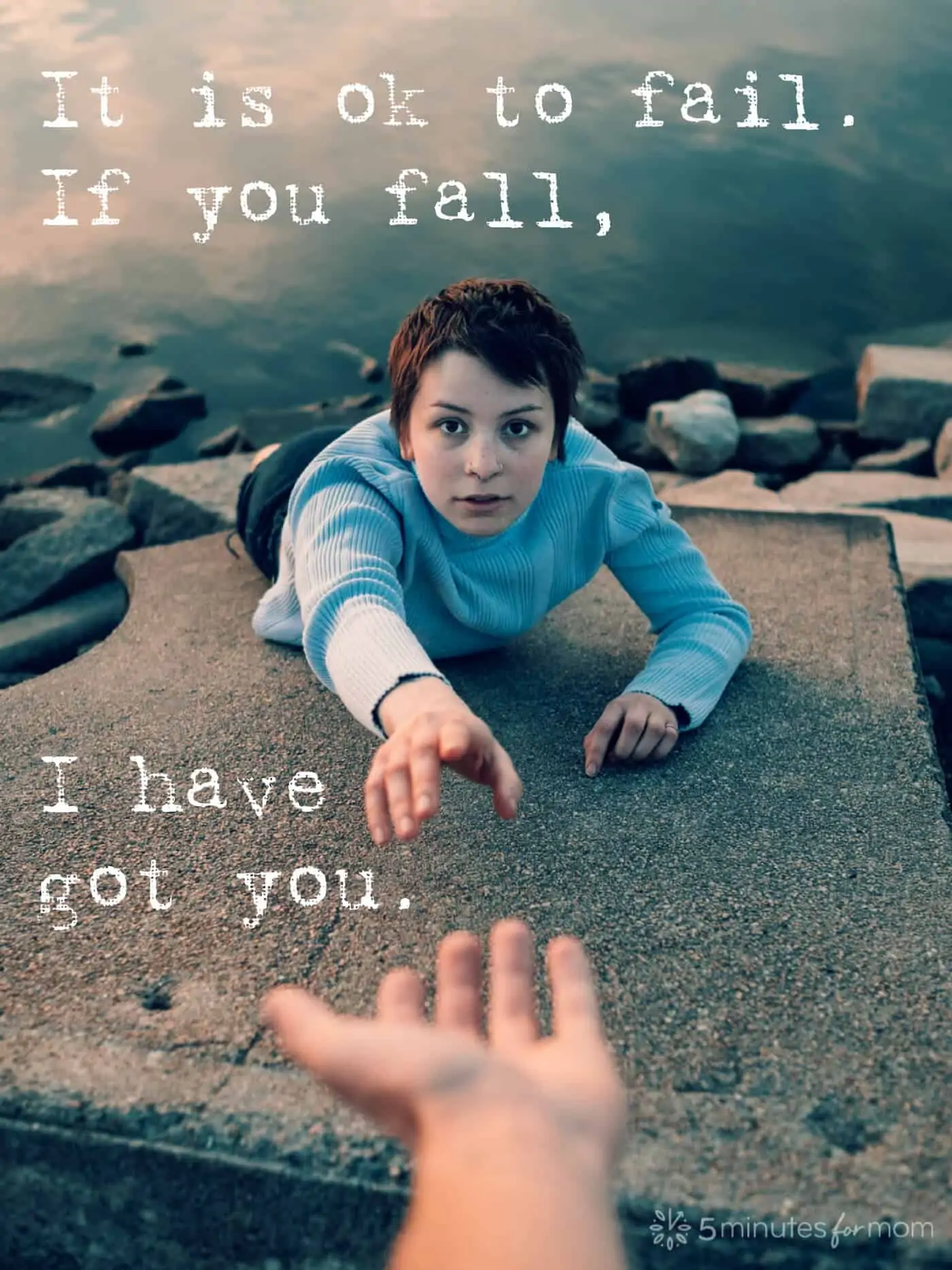 Please Note: I am not a trained professional and this post is not medical advice. This post is based on my personal opinions and experiences.
Written by Janice Croze, co-founder of 5 Minutes for Mom
Talk with me: @5minutesformom and Facebook.com/5minutesformom
Pin with me at http://pinterest.com/5minutesformom/